"This is a real scandal. And once again we have the classic question. What did the Attorney General know, and when did he know it? This Obama Justice Dept. reminds me of nothing so much as the Nixon Justice Dept.

You have the scent of high-level knowledge of serious wrongdoing and you have the smell of cover-up and I think the stench of cover-up on this gun-running operation is very strong indeed."
March 24, 2009
Deputy Attorney General David Ogden – U.S.-Mexico Border Security Policy Press Conference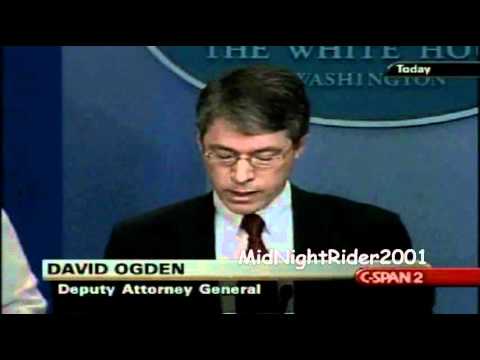 The president has directed us to take action to fight these cartels, and Attorney General Holder and I are taking several new and aggressive steps as part of the Administration's comprehensive plan.

The first steps include the following.

DOJ's Drug Enforcement Administration, which already has the   largest U.S. drug enforcement presence in Mexico with 11 offices in that country, is placing 16 new DEA positions in Southwest border field operations specifically to target Mexican trafficking and associated violence.

The DEA is also deploying four new mobile enforcement teams to specifically target Mexican methamphetamine trafficking, both along the border and in U.S. cities impacted by the cartels.

DOJ's Bureau of Alcohol, Tobacco, Firearms and Explosives is increasing its efforts by adding 37 new employees in three new offices, using $10 million in Recovery Act funds and redeploying 100 personnel to the Southwest border in the next 45 days to fortify its Project Gunrunner which is aimed at disrupting arms trafficking between the United States and Mexico.

ATF is doubling its presence in Mexico itself, from five to nine personnel working with the Mexicans, specifically to facilitate gun-tracing activity which targets the illegal weapons and their sources in the United States.
March 2009
President Barack Obama to visit Mexico: Drug war, immigration to be discussed–El Paso Times
House Resolution 1448, the Border Reinforcement and Violence Reduction Act, aimed at reducing drug violence along the border.

Under the bill, $379 million would be destined for existing law enforcement programs to crack down on trafficking in weapons.
……
And it would increase resources for the Bureau of Alcohol Tobacco, Firearms and Explosives and Immigration and Customs Enforcement to beef up their border task forces.
……
Such a task force should bring together federal law enforcement agencies and local law enforcement to crack down on the smuggling of weapons, drugs and bulk cash, he [Democratic U.S. Sen. Jeff Bingaman] said [In a letter to Janet Napolitano DHS].

Tuesday, the Obama administration said the president planned to send additional federal agents to bolster the Southwest border as drug cartels fight in Mexico.

The money for those agents may come from the stimulus package or an existing immigration-enforcement program, The Associated Press reported.

The Bureau of Alcohol Tobacco, Firearms and Explosives is hiring agents and support personnel to boost anti-gunrunning teams in El Centro, Calif., McAllen and Las Cruces, and will add attaches to U.S. consulates in Juarez and Tijuana.
April 2, 2009
Attorney General Eric Holder at the Mexico/United States Arms Trafficking Conference – CUERNAVACA, MEXICO ~ Thursday, April 2, 2009

I would like to thank the Mexican and U.S. experts who have worked so hard on this issue. On our side, Secretary Napolitano and I are committed to putting the resources in place to increase our attack on arms trafficking into Mexico.

Last week, our administration launched a major new effort to break the backs of the cartels. My department is committing 100 new ATF personnel to the Southwest border in the next 100 days to supplement our ongoing Project Gunrunner, DEA is adding 16 new positions on the border, as well as mobile enforcement teams, and the FBI is creating a new intelligence group focusing on kidnapping and extortion. DHS is making similar commitments, as Secretary Napolitano will detail.

But as today's conference has emphasized, the problem of arms trafficking will not be stopped at the border alone. Rather, as our experts emphasized, this is a problem that must be met as part of a comprehensive attack against the cartels – an attack in depth, on both sides of the border, that focuses on the leadership and assets of the cartel.

http://www.justice.gov/ag/speeches/2009/ag-speech-090402.html
Spring  2009
Mexico drug violence not an 'emergency,' White House says
Rule requiring gun stores to report multiple sales of assault rifles, other long guns, delayed
(MSNBC) –In the Spring of 2009, the Obama administration called for the banning of "assault rifles" and .50 BMG "sniper rifles" due to their use in crimes by Mexican drug cartels. Obama dubiously alleged that 90% of these weapons were tracked back to the United States, implying that Americans have an obligation to surrender some of our freedoms to keep these weapons from being smuggled illegally over the border and used in Mexican-on-Mexican violence in Mexico. …

Obama backed off these proposals a month later, noting that such a ban would not be politically feasible at this time.
(CBS News) –WASHINGTON – Keeping American weapons from getting into the hands of Mexican gangs is the goal of a program called "Project Gunrunner." But critics say it's doing exactly the opposite. CBS News investigative correspondent Sharyl Attkisson reports on what she found.

December 14, 2010. The place: a dangerous smuggling route in Arizona not far from the border. A special tactical border squad was on patrol when gunfire broke out and agent Brian Terry was killed.
……
The assault rifles found at the murder were traced back to a U.S. gun shop. Where they came from and how they got there is a scandal so large, some insiders say it surpasses the shoot-out at Ruby Ridge and the deadly siege at Waco.

To understand why, it helps to know something about "Project Gunrunner" an operation run by the ATF the Federal Bureau of Alcohol, Tobacco and Firearms.

"Project Gunrunner" deployed new teams of agents to the southwest border. The idea: to stop the flow of weapons from the US to Mexico's drug cartels. But in practice, sources tell CBS News, ATF's actions had the opposite result: they allegedly facilitated the delivery of thousands of guns into criminal hands.

CBS News wanted to ask ATF officials about the case, but they wouldn't agree to an interview. We were able to speak to six veteran ATF agents and executives involved. They don't want to be quoted by name for fear of retaliation. These are their allegations.

In late 2009, ATF was alerted to suspicious buys at seven gun shops in the Phoenix area. Suspicious because the buyers paid cash, sometimes brought in paper bags. And they purchased classic "weapons of choice" used by Mexican drug traffickers – semi-automatic versions of military type rifles and pistols.

Sources tell CBS News several gun shops wanted to stop the questionable sales, but ATF encouraged them to continue.

Jaime Avila was one of the suspicious buyers. ATF put him in its suspect database in January of 2010. For the next year, ATF watched as Avila and other suspects bought huge quantities of weapons supposedly for "personal use." They included 575 AK-47 type semi-automatic rifles.

ATF managers allegedly made a controversial decision: allow most of the weapons on the streets. The idea, they said, was to gather intelligence and see where the guns ended up. Insiders say it's a dangerous tactic called letting the guns, "walk."

One agent called the strategy "insane." Another said: "We were fully aware the guns would probably be moved across the border to drug cartels where they could be used to kill."

On the phone, one Project Gunrunner source (who didn't want to be identified) told us just how many guns flooded the black market under ATF's watchful eye. "The numbers are over 2,500 on that case by the way. That's how many guns were sold – including some 50-calibers they let walk."

50-caliber weapons are fearsome. For months, ATF agents followed 50-caliber Barrett rifles and other guns believed headed for the Mexican border, but were ordered to let them go. One distraught agent was often overheard on ATF radios begging and pleading to be allowed to intercept transports. The answer: "Negative. Stand down."
……
Sure enough, the weapons soon began surfacing at crime scenes in Mexico – dozens of them sources say – including shootouts with government officials.
……
Then, Border Patrol Agent Brian Terry was murdered. The serial numbers on the two assault rifles found at the scene matched two rifles ATF watched Jaime Avila buy in Phoenix nearly a year before. Officials won't answer whether the bullet that killed Terry came from one of those rifles. But the nightmare had come true: "walked" guns turned up at a federal agent's murder.
……
Hours after Agent Terry was gunned down, ATF finally arrested Avila. They've since indicted 34 suspected gunrunners in the same group. But the indictment makes no mention of Terry's murder, and no one is charged in his death.
……
In a letter, the Justice Department which oversees ATF says the agency has never knowingly allowed the sale of assault weapons to suspected gunrunners.
To Obama the murder of Border Patrol Agent Brian Terry, ICE agent Jaime Zapata and hundreds of Mexican citizens were nothing but a "serious mistake"?! They were killed with guns that the Obama Admin knowingly, purposefully let walk right into the wrong hands. Calling it a "serious mistake" is an appalling insult to those who have lost their lives due to 'Operation Fast and Furious.'
March 22, 2011
(CBS News) Obama on "gunwalking" – "Serious mistakes" may have been made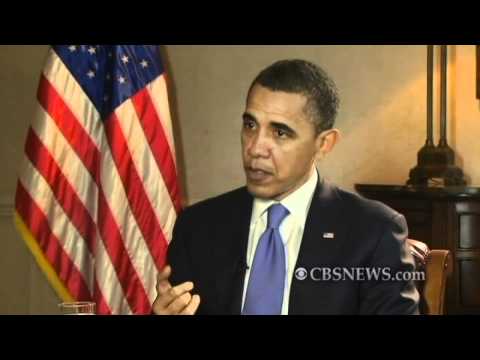 Responding to operation "Fast and Furious," President Obama told Univision's Jorge Ramos, "serious mistakes" may have been made. Recently CBS News broke this story of the ATF letting guns into Mexico, which have wound up in the hands of drug cartels:

Ramos: "Did you authorize this operation and was President Phillipe Calderon properly notified about it?"

Obama: "Well first of all I did not authorize it, Eric Holder, the Attorney General, did not authorize it. He's been very clear that our policy is to catch gun runners and put them in jail, so what he's done is assigned an IG, an inspector general, to investigate what exactly happened here".

Ramos: "Who authorized it?" Well we don't have all the facts, that's why the… uh, IG is in business…"

Ramos: "You were not even informed about it?"

Obama: "Absolutely not, it is a big government, a lot of moving parts, but I want to be very clear, I spoke to Pres. Calderon when he came to visit just a few weeks ago; our policy is to ramp up the interdiction of guns flowing south because that has contributed to some of the security problems that are taking place in Mexico and what we are trying to do is build the kind of cooperation between Mexico and the United States that we haven't seen before – that assures that we have a comprehensive approach. I've said to Pres. Calderon and I've said publicly we've got obligations, it isn't just Mexico's problem, it's our problem. We've got to reduce demand for drugs which is why, even though we've got significant deficits, we're allocating $10 billion dollars in our budget to try to reduce demand through prevention programs and education programs. We have to make sure we're enforcing… uh, the kinds of uh… measures that will stop the flow of guns and cash down south that is happening to fuel these grand national drug cartels. So we initiated excellent cooperation, there may be a situation here in which a serious mistake was made. In that case then we'll find out and we'll find somebody responsible".

Ramos: "Mexico was not informed then?"

Obama: "Well, if I wasn't informed, then I assure that Mexico was not informed either".
March 3, 2011
CBS News –Agent: I was ordered to let U.S. guns into Mexico
WASHINGTON – Federal agent John Dodson says what he was asked to do was beyond belief.

He was intentionally letting guns go to Mexico?

"Yes ma'am," Dodson told CBS News. "The agency was."

An Alcohol, Tobacco and Firearms senior agent assigned to the Phoenix office in 2010, Dodson's job is to stop gun trafficking across the border. Instead, he says he was ordered to sit by and watch it happen.

Investigators call the tactic letting guns "walk." In this case, walking into the hands of criminals who would use them in Mexico and the United States.

Dodson's bosses say that never happened. Now, he's risking his job to go public.

"I'm boots on the ground in Phoenix, telling you we've been doing it every day since I've been here," he said. "Here I am. Tell me I didn't do the things that I did. Tell me you didn't order me to do the things I did. Tell me it didn't happen. Now you have a name on it. You have a face to put with it. Here I am. Someone now, tell me it didn't happen."

Agent Dodson and other sources say the gun walking strategy was approved all the way up to the Justice Department. The idea was to see where the guns ended up, build a big case and take down a cartel. And it was all kept secret from Mexico.

ATF named the case "Fast and Furious."

Surveillance video obtained by CBS News shows suspected drug cartel suppliers carrying boxes of weapons to their cars at a Phoenix gun shop. The long boxes shown in the video being loaded in were AK-47-type assault rifles.

So it turns out ATF not only allowed it – they videotaped it.

Documents show the inevitable result: The guns that ATF let go began showing up at crime scenes in Mexico. And as ATF stood by watching thousands of weapons hit the streets… the Fast and Furious group supervisor noted the escalating Mexican violence.

One e-mail noted, "958 killed in March 2010 … most violent month since 2005." The same e-mail notes: "Our subjects purchased 359 firearms during March alone," including "numerous Barrett .50 caliber rifles."

Dodson feels that ATF was partly to blame for the escalating violence in Mexico and on the border. "I even asked them if they could see the correlation between the two," he said. "The more our guys buy, the more violence we're having down there."

Senior agents including Dodson told CBS News they confronted their supervisors over and over.

Their answer, according to Dodson, was, "If you're going to make an omelette, you've got to break some eggs."

There was so much opposition to the gun walking, that an ATF supervisor issued an e-mail noting a "schism" among the agents. "Whether you care or not people of rank and authority at HQ are paying close attention to this case…we are doing what they envisioned…. If you don't think this is fun you're in the wrong line of work… Maybe the Maricopa County jail is hiring detention officers and you can get $30,000 … to serve lunch to inmates…"
Typical Holder, an unartful dodger. In the video below, note Holder's nervous, anxious reaction to Issa's questioning, his stalling (he was basically tap dancing throughout his entire testimony while perjuring himself).
May 3, 2011
Darrel Issa questions Eric Holder on Gunnruner

See: Holder waffles under oath & new Grassley-Issa letter slams DOJ's "false statements." ATF agents jeer at Holder weasel testimony.
June 15, 2011
Oversight Chairman Rep. Darrell Issa: Obama Administration's Deadly Gunrunner Operation a Deadly Mistake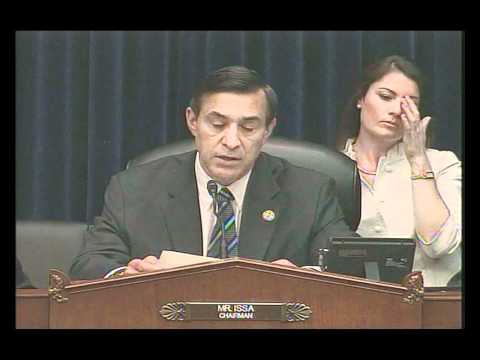 Oversight Chairman Darrell Issa (R-CA) opening statement at today's explosive Oversight hearing on the Obama Administration's deadly program that let thousands of high-powered weapons fall into drug smugglers' hands. Oversight released a scathing report w/ all the tragic facts about the Obama Administration's deadly mistake of a program, Operation Fast and Furious.
Read the report here: http://1.usa.gov/mySoTv
June 15, 2011
Senator Chuck Grassley Testifying at a House Oversight Committee Hearing "Fast and Furious"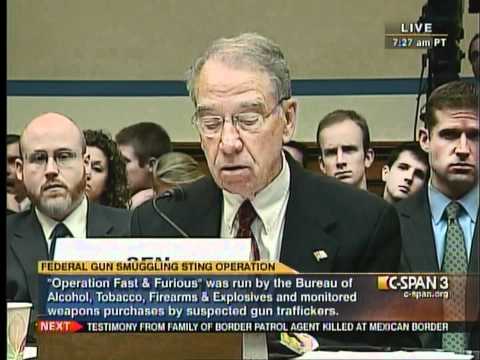 On June 15, 2011, Senator Chuck Grassley testified at a hearing of the House Committee on Oversight and Government Reform about his oversight work as the Ranking Member of the Senate Judiciary Committee on the policy of the Justice Department and the Bureau of Alcohol, Tobacco, Firearms and Explosives to let guns to fall into the hands of known straw purchasers in an Operation called Fast and Furious.
Jun 21, 2011
Sen. Grassley: Who in the Obama Administration Authorized Failed Operation Fast & Furious?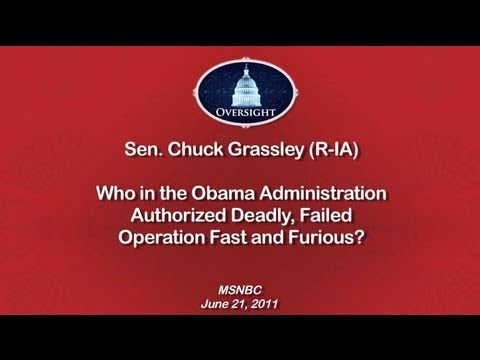 On June 15, 2011, Senator Chuck Grassley testified at a hearing of the House Committee on Oversight and Government Reform about his oversight work as the Ranking Member of the Senate Judiciary Committee on the policy of the Justice Department and the Bureau of Alcohol, Tobacco, Firearms and Explosives to let guns to fall into the hands of known straw purchasers in an Operation called Fast and Furious.
The ends justify the means…
For an extensive timeline, see David Codrea's "A Journalist's Guide to 'Project Gunwalker' at the Gun Rights Examiner– here, here and here.
Fred Lucas at CNS News has a more concise timeline here.
Update: Gunwalker: President Obama's Un-Plausible Deniability
Is it rational to believe the president and his closest advisers had nothing to do with this murderous plot?
Excerpt
Which leads to President Obama: how is it possible that the White House was not aware of Fast and Furious while it was occurring? We now know the following:

The #2 man in the ATF, Acting Deputy Director William Hoover, tried to shut Operation Fast and Furious down in March of 2010 but was rebuffed.
Officials with the Justice Department and ATF tried to evade Senator Grassley's attempts to discover where the guns came from.
A National Security Council (NSC) operative in the White House named Kevin O'Reilly was in direct contact with Bill Newell, the agent in charge of the operation. (Are we to believe that the benign emails released between the two men were their only Gunwalker conversations, and that O'Reilly wasn't briefing the National Security Council or the president?)
The U.S. attorney involved in Fast And Furious, Dennis Burke, is a long-time Napolitano ally and was her chief of staff while she was governor from 2003-2008. Burke is also on the attorney general's Advisory Committee border and immigration law enforcement subcommittee. He recently opposed a routine filing by murdered Border Patrol Agent Brian Terry's family, in a move that appears designed to protect him in criminal and civil trials regarding Gunwalker.
Emails reveal that every law enforcement director in DOJ was briefed on Operation Fast and Furious. All have been silent on the allegations except the scapegoated Melson and the DEA administrator, who surfaced long enough to deny that her agency was involved in the criminal actions.
The Departments of Justice, Homeland Security, and Treasury were involved (State and CIA have allegedly had roles in the operation, but these allegations have not been confirmed by evidence).