What a hack! Wasserman links to the transcript proving Priebus' point: bit.ly/Afqg7j
Moving along…
Rep. Debbie Wasserman Schultz, the Florida Democrat who chairs Democratic National Committee, blamed the Tea Party movement for the shooting of Rep. Gabrielle Giffords in Arizona last year. She made the comments in New Hampshire this morning.
We need to make sure that we tone things down, particularly in light of the Tucson tragedy from a year ago, where my very good friend, Gabby Giffords — who is doing really well, by the way, was shot. The discourse in America, the discourse in Congress in particular . . . has really changed, I'll tell you. I hesitate to place blame, but I have noticed it take a very precipitous turn towards edginess and lack of civility with the growth of the Tea Party movement. You had town hall meetings that [the Tea Party] tried to take over, and you saw some their conduct at those town hall meetings

When they come and disagree with you, you're not just wrong, you're the enemy.
…allow me to refresh your faulty selective memory.
Below statements: "lack of civility", to the 9th degree.
February 23, 2011:
Rep. Mike Capuano (D-Ma) Fires Up Unions: "You need to get out on the streets and get a little bloody"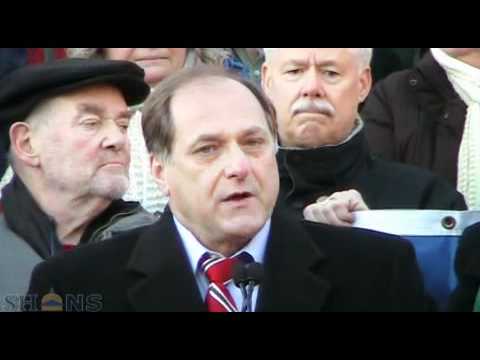 (State House News Service) –"This is going to be a struggle at least for the next two years. Let's be serious about this. They're not going to back down and we're not going to back down. This is a struggle for the hearts and minds of America," Capuano said, referring to the Tea Party counter-protestors as a "couple of nuts in the background."

"I'm proud to be here with people who understand that it's more than just sending an email to get you going. Every once and awhile you need to get out on the streets and get a little bloody when necessary," he continued.

The crowd cheered and hooted for each Congressman as they spoke – the tougher the talk, the louder the reception.
August 2011:
(Democrats) Congressional Black Caucus "This Is War"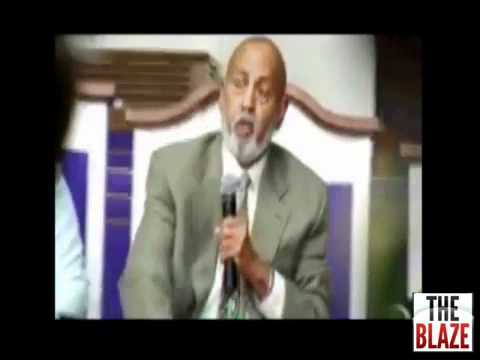 Congressional Black Caucus Travels US Cities Using Violent Rhetoric: Declares 'War' on Racist Tea Party, Says Tea Party Wants to Lynch Blacks, Calls for Bank Runs, Civil Unrest in Their Neighborhoods and Homes
August 22, 2011:
Rep. Frederica Wilson (D-FL)'The Tea Party Is The Real Enemy'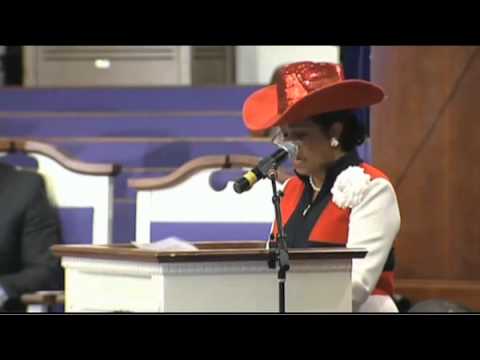 Let us all remember who the real enemy is… the real enemy is the Tea Party… the Tea Party holds the Congress hostage.
September 5 2011:
Teamsters Thug Hoffa to Obama 'This is your army. Let's take these Tea Party son of a bitches out.'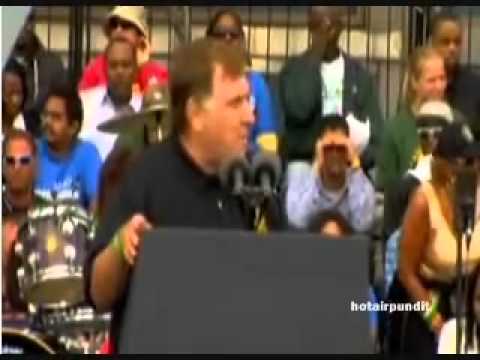 We're going to hear from President Obama in a few minutes. And I'm so glad he's come to Michigan because this is where he sees the real America. He looks out on this army of people and you know what I say, 'President Obama, this is your army. We are ready to march.' And, President Obama we want one thing – jobs, jobs, jobs, jobs… That's what we're going to tell him. When he sees what we're doing here he's going to be inspired. But he needs help. And, you know what. Everybody here's gotta vote. If we go back and keep the eye on the prize – Let's take these sons a bitches out and give America back to America where we belong.
September 5, 2011:
Biden at AFL-CIO Labor Day Rally: "Keeping The Barbarians From the Gates"

[Note] Biden peppered his speech with the term: "fight" numerous times and also applied the terms "onslaught," "attack," "assault," and "war".
You guys built the middle class, I would just emphasize what Hilda [Solis] said and say it slightly different: We don't see the value of collective bargaining, we see the absolute positive necessity of collective bargaining. Let's get something straight: The only people who have the capacity — organizational capacity and muscle — to keep, as they say, the barbarians from the gate, is organized labor. And make no mistake about it, the guys on the other team get it. They know if they cripple labor, the gate is open, man. The gate is wide open. And we know that too.
October 24, 2011
Obama to Latinos: Get Out There and Punish Your Enemies

(New York Times) –In a radio interview that aired on Univision on Monday, Mr. Obama sought to assure Hispanics that he would push an immigration overhaul after the midterm elections, even though he has not been able to attract Republican support.

If Latinos sit out the election instead of saying, 'We're going to punish our enemies and we're gonna reward our friends who stand with us on issues that are important to us,' if they don't see that kind of upsurge in voting in this election, then I think it's going to be harder and that's why I think it's so important that people focus on voting on November 2.
And who can forget (besides projecting progs, that is) this timeless OBot inciting Obama classic?
September 17, 2008:
Obama Says "Argue With Friends and Neighbors, Get In Their Face"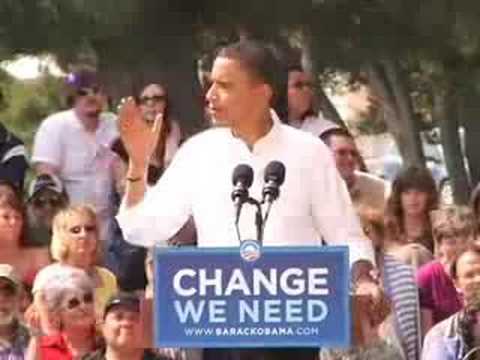 I need you to go out and talk to your friends and talk to your neighbors. I want you to talk to them whether they are independent or whether they are Republican. I want you to argue with them and get in their face.
All (with the exception of Hoffa) of the above ARE –elected representatives of "We the People", up to and including the sitting President and Vice President of the United States. NOT frustrated, taxpaying citizens.
Dear Debbie, I hope you have enjoyed your crash course as much as I did preparing it for you.  Please feel free to browse through the related links below. In the shape you are in, you need all the education you can get.
P.S. For God's sake woman, get your roots done. Oh, and 1986 called, it wants it's hairstyle back.
Update May 10, 2012:
Senior campaign adviser for the Obama campaign David Axelrod calls Karl Rove and the Koch brothers "contract killers".
President Barack Obama's re-election campaign strategist David Axelrod warned Monday that the president's campaign would respond aggressively to the "Karl and Koch brothers' contract killers in super PAC-land" and treat their ads as if they came from Romney himself.

Axelrod was referring to GOP strategist Karl Rove's group American Crossroads and the billionaire Koch brothers, Charles and David, who have bankrolled several conservative political action committees. Both are expected to play a large role in attacking Obama and other Democratic candidates this year.
GW at Wolf Howling links…thanks!
Also see: