The revolution endorsed by Obama, Pelosi and the DCCC. Solidarity now!
(Mecury News) –OAKLAND — Occupy Oakland protesters broke into City Hall, stole an American flag from the council chamber and set it afire Saturday night punctuating a wild day on the streets of the East Bay city in which police deployed tear gas, arrested more than 100 marchers and dodged hurling objects.
In the first major clash between protesters and police since November, three officers were injured, as protesters threw bottles, metal pipe, rocks, spray cans, "improvised explosive devices," and lit flares, police said, in a large skirmish on the front steps of the Oakland Museum of California.
The marchers had announced plans to occupy a vacant building to create the movement's headquarters, with plans for a two-day party. Police and city officials vowed to not allow it.
……
At 2:50 p.m., marchers began tearing down perimeter fences around the vacant Henry J. Kaiser Convention Center, city officials said. Police declared an unlawful assembly and fired more tear gas.
A demonstrator named Ian from Marin County said police fired rubber bullets as well, after protesters began hurling items at them.

Sixteen of the protesters were arrested in that confrontation at 10th and Oak streets for mostly failure to disperse and assaulting a police officer. The three other arrests were scattered along the march route, a police source said.

The most seriously injured officer received a cut to his face which required stitches after a protester hit him with a bicycle. The other two injured officers received bruises and one injured his hand, the police source said. [...]
This comment on the Mercury News piece, pretty much sums it up:
(Daniel Skeen) –People are refusing to do business because of the Mob violence and business are leaving the city. Soon Oakville will be just a huge Mad Max like city.
That is what they want –utter chaos and pandemonium.
Peace shields image caption credit: @Lilleth71
Photos source: Mercury News
Update:
Cop: Stop. Get away from City Hall.
Protesters: F*ck you! F*ck you!
Update 2: (Reuters) –Arrests in Oakland protests rise to more than 400
Update 3: Surveillance Video: Occupy Oakland Breaking Into City Hall During Jan 28 FTP March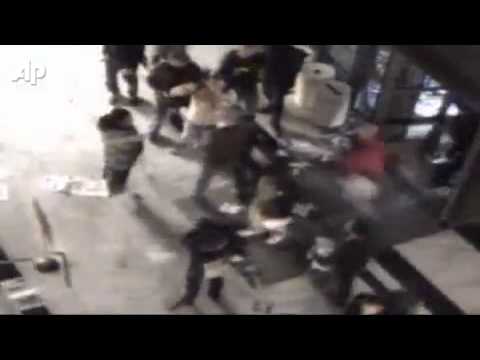 (Oakland Tribune) – Oakland police released footage showing Occupy Oakland protesters breaking into City Hall on Jan. 28, then burning a U.S. flag.

Police posted the video online early Wednesday evening, following a noon Occupy Oakland news conference in front of city hall earlier that day.

The police claim their footage shows unacceptable criminal behavior that goes beyond First Amendment rights of free speech.

Most of the city's footage posted Wednesday comes from a security camera aimed at the lobby of city hall.

Black-and-white freeze frames show a crowd coming through the doors. Papers litter the ground.

Investigators are attempting to identify the individuals responsible and are encouraging anyone with information to contact the Oakland Police Department at 510-238-3268.
Also see: