Reportedly, an anonymous member of the Today Show George Zimmerman media lynch mob goes down…
(Media Decoder NY Times) –NBC News has fired a producer who was involved in the production of a misleading segment about the Trayvon Martin case in Florida.

The person was fired on Thursday, according to two people with direct knowledge of the disciplinary action who declined to be identified discussing internal company matters. They also declined to name the fired producer. A spokeswoman for NBC News declined to comment.
……
The segment in question was shown on the "Today" show on March 27. It included audio of Mr. Zimmerman saying, "This guy looks like he's up to no good. He looks black."

But Mr. Zimmerman's comments had been taken grossly out of context by NBC. On the phone with a 911 dispatcher, he actually said of Mr. Martin, "This guy looks like he's up to no good. Or he's on drugs or something. It's raining and he's just walking around, looking about." Then the dispatcher asked, "O.K., and this guy — is he white, black or Hispanic?" Only then did Mr. Zimmerman say, "He looks black."
……
On April 4, the network news division said in a statement that it deeply regretted the "error made in the production process."

It did not specify what steps it would take. But one day later it dismissed a Miami-based producer who had worked at NBC for several years.

The people with direct knowledge of the firing characterized the misleading edit as a mistake, not a purposeful act.
An "error", a "mistake" not at all a "purposeful act". Riiiight! If you believe that, I have some choice swampland to sell you in the Sahara.
(Reuters) –An internal NBC News probe has determined a "seasoned" producer was to blame for a misleading clip of a 911 call that the network broadcast during its coverage of the Trayvon Martin shooting, according to two sources at the network.
……
The Today show's editorial control policies – which include a script editor, senior producer oversight, and in most cases legal and standards department reviews of material to be broadcast – missed the selective editing of the call, said the NBC executive.
……
Public pressure has been building on the network to fully explain the incident – which critics charge has inflamed racial tensions in an already volatile situation.

On Thursday, a New York Post editorial characterized the edited 911 call as "pretty damning evidence of willful misconduct by NBC News" and suggested that racial violence could ensue over irresponsible news coverage. [...]
If the law allows, sue the pants off of the bastards, George.
Via Matthew Sheffield at NewsBusters:
While NBC has taken a good first step toward rectifying the situation, until the network releases the name of the person and explains its theory that the edit was not deliberate, its credibility is still under question.
Precisely.
So @NBCNews this NAMELESS lying fraudster race-baiter can now work ANYWHERE without public scrutiny cuz you won't name!!!!!!!! #GotCoverUp

— John Nolte(@NolteNC) April 7, 2012
There is also the possibility that NBC had fired no one, and they are spreading it as fact to cover their scandalous rear ends. We can never be sure unless they release a name.
Here is a clip of the March 27 Today Show segment reporting the selectively edited audio: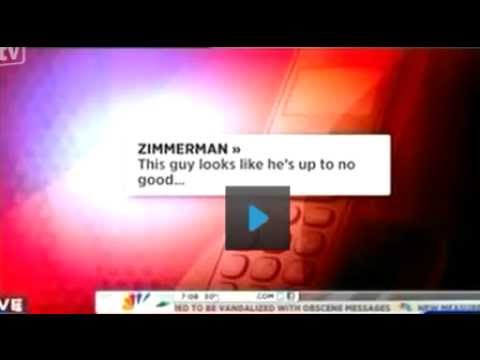 Update: A couple of the top dog producers of the Today Show (edited)
Noah Kotch [Today Show] Senior Producer: 379E-1, 30 Rockefeller Plaza, New York, NY 10112.
Jim Bell Executive Producer of the Today Show
Update 2: Bryan Preston at the PJ Tattler believes the Today Show producer at fault, is none other than Senior Producer Jim Bell (as mentioned in the update above):
I wrote earlier that there is no way that NBC's Zimmerman edit was an accident or error, as the network claims. I base my position on nearly 20 years of editing video and audio. NBC's Zimmerman edit was deliberate, done in a network editing studio at the specifications or orders of a producer who in turn answers up a chain of command that ends with the executive producer of the show that aired it. That show was the Today show, the highest-rated morning news show on the networks, and one of NBC's prime products. Today aired the edited clip of George Zimmerman's 911 call last week, and the network also put a text version, with the same dishonest edit, on its web sites. Only after this blog and others called NBC out did they "apologize," while refusing to name anyone involved.

NBC's deliberate edit was an attempt to build a narrative that George Zimmerman killed Trayvon out of racial animosity, but that does not square up with facts….

Today's latest statement indicates that a "seasoned producer" was involved. A "seasoned producer" knows what they are doing, or should, and does not make an embarrassing "mistake" like the Zimmerman edit. Whoever this "seasoned producer" is, nothing gets on the air on a show like Today without the show's executive producer's approval. The executive producer of the Today show is Jim Bell. His bio describes him as a "hands on producer." The 44-year-old Bell also fits the description of a "seasoned producer."
Preston links to Jim Bell's Twitter account (@jfb), which since has been locked down. Interesting…
JammieWearingFool says Brietbart 'em:
What would Breitbart do?

Seriously, NBC does NOT have the power to keep the identities of those responsible a secret. His name is Jim Bell. He is the Executive Producer of The Today Show. And, until he or NBC say otherwise, he is responsible. His bio at The Today Show website even talks about how "hands-on" he is as a producer.

You and your blogging friends should post his name as often as possible. Start an email and phone campaign to his office. If I was a lefty, I'd suggest soliciting readers to find his home address, phone number and places where he likes to hang out or take vacations because Spike Lee and The NBPP taught me that it's totally OK. Pressure…
At the very least Bell should be held accountable.
Contact info:
Jim Bell, Executive Producer
NBC Today Show
Primary Phone: (212) 664-4602
Secondary Phone: (212) 664-4444
E-Mail: Jim Bell, NBC Today Show
Also see:
CNN Back Peddles: George Zimmerman Said 'Cold' Not 'Coon' [Video]
Toledo: Mob Of 6 Black & White Youths Assault 78 Year Old Man: "This is for Trayvon…Kill That White" [Updated]
Sanford Fla: Two Black Teens Ferociously Attack 50 Year Old White Man With A Hammer! [Update: Victim On Life Support]