(ThomasMoreLawCenter) –It was a free speech victory for Pastor Terry Jones as he addressed a crowd of supporters this past Saturday, April 7th. Pastor Jones and his associate pastor, Wayne Sapp spoke out against the evils of Sharia law in front of the largest mosque in North America.

A group of counter-protestors chanted obscenities and chased Jones's supporters who were awaiting his arrival at the mosque. His supporters displayed signs in English and Arabic, which read, "I will not submit".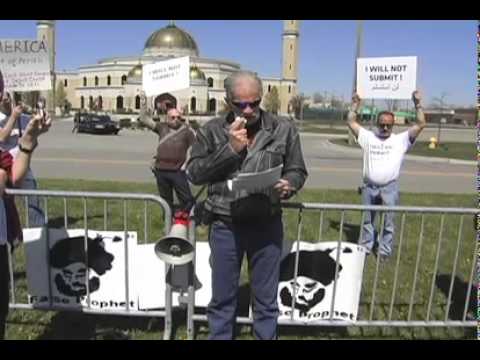 Words just words…
"We can not allow other people to come in and threaten other people's right to worship as they should choose" ~Shanta Driver (pro-Islamic totalitarian oppression counter demonstrator – BAMN-Â UEAALDF )
That right is reserved for Islam, and Islam alone. Right Shanta? Spit.
Not to mention this damning report:
U.S. Mosques: 84.5% of Imams Recommend Studying Violent Texts, 58% Guest Imams Promoted Violent Jihad, 51% Texts Advocate Severe Violence [2011]