Kudos to intrepid St Louis reporter Larry Connors, for having the stones to confront Obama.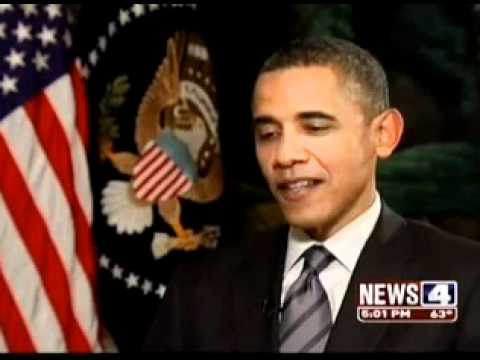 "The economy is a big issue and concern for folks. I mean, the unemployment, trying to make ends meet, gas prices, food prices going up. Some of our viewers are complaining, they get frustrated, even angered, when they see the first family jetting around, different vacations and so forth, sometimes maybe they think under color of state business and that you're out of touch, that you don't really know what they're experiencing right now."

President Barack Obama: "Well, I don't know how many viewers you're talking about that say that."

Conners: "We do hear from some."

Obama:  "I hear from all kinds of viewers about everything."

Conners: "I'm sure you do."

Obama: "But the fact of the matter is, I think if you look at my track record, I'm raising a family here. When we travel, we got to travel through Secret Service, and Air Force One, that's not my choice. I think most folks understand how hard I work and how hard this administration is working on behalf of the American people."
In that Obama refuses to discuss his family's (tax payer funded) jet setting romps, he mocks everyday American's and their struggles in this time of economic insecurity.
The running list of Obama vacations via Paul Bedard at the Washington Examiner. Sixteen is the current total, that equates to around eight per year in office so far..
According to presidential watcher Mark Knoller of CBS, George W. Bush, at this time of his presidency, had made 30 visits to his Texas ranch spanning all or part of 220 days. The Obama's vacation day count is less than half of that.

But his have become more controversial because of the costs associated with moving the first family to a public vacation spot, unlike the Bushes to their remote ranch in Crawford, Texas. For example, the Hawaii Reporter said the first family's 2011 Christmas vacation in Hawaii would exceed $1.5 million.

[Make that '$4,113,038'.]
……
The Obama Vacation List:


President's Day 2012: Michelle and the first daughters in Aspen, Colorado to ski.

Christmas 2011: the first family in Hawaii for an extended vacation.

Summer 2011: in Martha's Vineyard, Mass., for the annual beach break.

June 2011: the first lady, her mother and daughters traveled to South Africa and Botswana.

President's Day 2011: the first lady and first daughters travel to Vail to ski.

Christmas 2010, in Hawaii.

August 2010: the first family traveled to Panama City Beach, Fla., for some sun and fun at the beach.

August 2010: Obama spent the weekend alone in Chicago for his 49th birthday bash.

August 2010: the first lady and daughter Sasha traveled to Spain for a mother-daughter vacation.

August 2010: summer vacation again at Martha's Vineyard.

July 2010: the first family went to Mount Desert Island, Maine.

May 2010: the first family had a four-day trip to Chicago.

March 2010: first lady and daughter spend Spring Break in New York City.

Christmas 2009: Hawaii again for the annual break.

August 2009: at Yellowstone National Park and the Grand Canyon for a short vacation.

August 2009: their first summer vacation as first family at Martha's Vineyard, Mass.
The Obama harbors an elitist sense of entitlement. It must be 'good to be the king'.