Dear monsters, an unbridled savage assault against an innocent victim is NOT justice.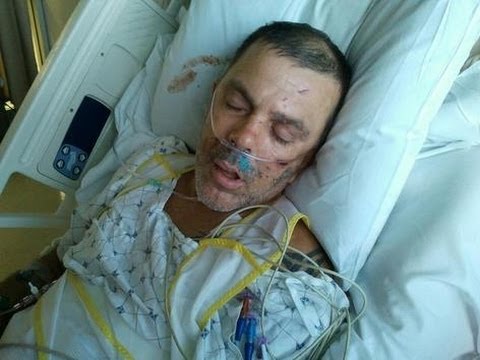 (WKRG) –MOBILE, Alabama –Mobile police need your help to catch a mob that beat Matthew Owens so badly that he's in critical condition.

According to police, Owens fussed at some kids playing basketball in the middle of Delmar Drive about 8:30 Saturday night [April 21, 2012.] They say the kids left and a group of adults returned, armed with everything but the kitchen sink.

Police tell News 5 the suspects used chairs, pipes and paint cans to beat Owens.

Owens' sister, Ashley Parker, saw the attack. "It was the scariest thing I have ever witnessed." Parker says 20 people, all African American, attacked her brother on the front porch of his home, using "brass buckles, paint cans and anything they could get their hands on."

[Cowardly] Police will only say "multiple people" are involved.

What Parker says happened next could make the fallout from the brutal beating even worse. As the attackers walked away, leaving Owen bleeding on the ground, Parker says one of them said

"Now thats justice for Trayvon."

Police canvassed the area, but did not find any suspects. They're asking anyone with information to call them at 251-208-7211, Crime Stoppers at 251-208-7000, or text a tip to 274637 and include the keyword CRIME 411.
Is Trayvon becoming an excuse for racism fueled violence?
Update: Move along folks, no hate crime here.
(FOX) –Asked if the incident was being investigated as a hate crime, [Mobile police spokeswoman Ashley] Rains replied: "No, it's not. It's being investigated as an assault." Eugene A. Seidel, first assistant U.S. Attorney for the Southern District of Alabama, declined to comment on the case when reached by FoxNews.com.

"Our policy is not to comment one way or another about cases," Seidel said when asked if his office has inquired about the incident. "All I can say is no comment."
Via RS McCain
Previous "justice for Trayvon" incidents:
Baltimore: Arrest Made In St. Pat's Day Viral Video Mob Assault Of Tourist Update: Cameraman @CASHton_Kutcher Tweets: "Justice for Trayvon"
Toledo: Mob Of 6 Black & White Youths Assault 78 Year Old Man: "This is for Trayvon…Kill That White"
Florida: Black Mob Violently Assault White Man In Name Of 'Trayvon!' "Permanent Disfigurement"
This report has no mention of  a "justice for Trayvon" claim, but the ferocious assault occurred in Sanford Florida, the ground zero of racial incitement in the name of Trayvon:
Two Black Sanford Florida Teens Ferociously Attack 50 Year Old White Man With A Hammer! [Update: Victim On Life Support]