The day of world wide Quran burning is in protest of Pastor Youcef  Nadarkhani's imprisonment in Iran.

Pastor Youcef Nadarkhani has been sentenced to death in Iran for his apostasy from Islam and his subsequent conversion to Christianity. Muslims are OKAY with that.
Pastor Terry Jones also a Christian, threatens to burn the Quran, the unholy book of the (pseudo) religion Islam, which is the basis for the execution of Pastor Youcef. Muslims are NOT okay with that.
If Pastor Youcef Nadarkhani is not released and Qurans are set ablaze, Muslims may go on a murderous rampage killing more Christians.
Got it?
Christians, the Bible and churches have been burned in the name of Islam, time and time again. Just this month in Sudan; Bibles, a school for clergy and the residence of the clerical students were burned. Egypt and Nigeria are Islamic Christian persecution hotbeds as well. One of the most  HORRIFYING examples in Nigeria occurred on July 16, 2011, Islamic jihadsts hacked Christian children to death with machetes! Burning churches and homes did not satisfy their taste for Christian persecution, though the evil foot soldiers of allah made sure to torch several to the ground while they were at it.
If Qurans are burned today and foaming at the mouth Islam rage boys murder non-Muslims in revenge, the burned Qurans will not be their reason, it will be their excuse. Islamic persecution of Christians existed well before Pastor Terry Jones ever hit the scene. "So who are the real bigots?"
Pastor Terry Jones speaking on the Worldwide Quran/ Mohammed Image Burning scheduled for today:
Embedded Video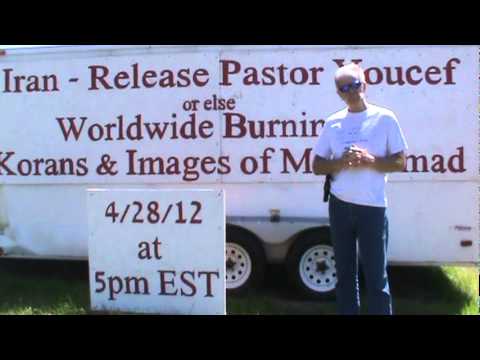 StandUpAmericaNow
(Stand Up America) –We have received reports from around the world from groups planning to participate in the Saturday event. These groups are in America, in Florida, North Carolina, Georgia, Missouri, New Jersey, Michigan, California, Texas, Ohio, Maine, Idaho and Pennsylvania.  We have also heard from groups in Africa, in New Delhi, India, Brazil, the Phillipines, Canada, Germany, Romania, and in other locations around Europe.

Together we are demanding the release of the Christian Pastor Youcef Nadarkhani from Iranian prison. If he has not been released we will protest his imprisonment, and the cowardliness and political correctness of world leaders concerning Islam's 1400 year history of violence, murder, rape and destruction that continues today, with a World Wide Burning of Korans and Images of the Prophet Mohammad at 5pm ET, Saturday April 28th.

A presentation will be BROADCAST LIVE at that time via USTREAM at this link: STANDUPAMERICANOW
If you are planning to participate:
Post your city, state or country on our Facebook page:
And those with Twitter accounts can Tweet for Youcef.
While you wait for today's Quran/Mo torching, here is a Danish video from 2007 of the burning of a Mo effigy:
Translation of the Danish text at link.
Final thoughts:
Did anyone ever think that perhaps Muslim violence around the world set off a Qur'an burning & not the other way around?
A very astute observation. And what causes Muslim violence? The Quran of course.
So there you have it.
Burn, evil burn. Rot in hell and take your heathen hounds of hell with you.
To be tolerant of the intolerant is the new tolerance. And I'll have no part of it. Call me a bigot, call me an islamophobe…whatever suits your fancy. Off my back, like water on a duck. I will not be silenced, I will not back down. ~ Velvet Hammer
Update: Meanwhile the Pentagon continues to bow to it's Islamic slave masters. Par for it's dhimmi course.
Also see:
Online Virtual Quran Burning Reloaded!
Quran Burning Controversy an Exercise in Selective Outrage
Must See Video! Ann Barnhardt Destroys Dhimmi "Jackass" Lindsey Graham's Anti-Free Speech Defense of the UnHoly Quran
The Quran Burning Apology Afghan President Karzai Should Of Been Given
Timeline of the Jyllands-Posten Muhammad Cartoons Violent Aftermath