KimberlinFiles.org
Kimberlin Files #brettkimberlin

Blogger Aaron Walker and his wife lost their full-time jobs as a result of Brett Kimberlin's attacks. Robert Stacy McCain lost his home. Others are suffering professionally and personally in unimaginable ways.

The National Bloggers Club has created this special initiative, which enables supporters to make financial donations to a relief fund as a show of support.
Please visit the link and give what you can, if you can. There is also an option available to set up a donation page in your name. You can find mine here.
Tiffany Gabbay of The Blaze provides a bullet list of Kimberlin's background and trail of terror:
Meet Soros-Funded Domestic Terrorist Brett Kimberlin Whose 'Job' Is Terrorizing Bloggers Into Silence
Drug dealer, alleged child molester, and convicted perjurer, forger and Indiana Speedway Bomber (who is also believed to have played a role in the assassination of a grandmother), Brett Kimberlin, spent 17 years in prison before his ultimate re-absorption into American society
He started a non-profit dubbed "Justice Through Music (JTM)" [http://www.jtmp.org/jtmp/index.php?q=about] that has, since at least 2005, been funded by George Soros' Tides Foundation and Barbara Streisand among other leftists
Along with his associate, Kimberlin also started an organization called "Velvet Revolution" [http://www.velvetrevolution.us/newVR] that supports the Occupy movement
JTM's goal is to use music to foster "social justice" and fight Republican "voter fraud" (like the kind George Bush allegedly used to "steal" the Florida election)
Any blogger — conservative and liberal alike — who has written the truth about Kimberlin has come under vicious attack by either Kimberlin or his minions, suffering death threats (veiled and unveiled), multiple lawsuits, loss of jobs and worse
He has filed over 100 frivolous lawsuits against anything that isn't nailed down and somehow is being allowed to continue unchecked
This story has never been reported on in the mainstream media
Blogger Patterico recalls the chilling, horrific night; he, his wife and children were victims of Brett Kimberlin's political terror tactics, putting their lives at a serious risk.  They were sound asleep in their beds until —SWAT swarmed in.  The tactic is called "swatting". All it takes is a bogus 9-11 phone call to the police falsely reporting reporting a non-existent crime at your residence for law enforcement to descend upon your home at any given hour.
Listen to the 9-11 audio targeting Patterico that fateful night: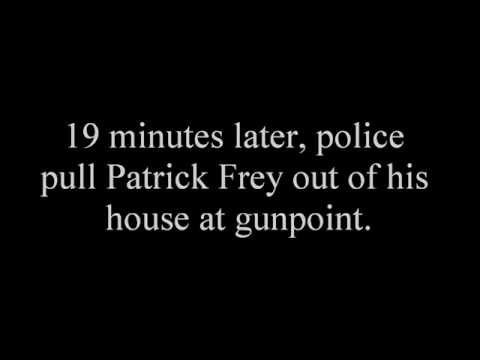 Frightening indeed.
But once one factors a 'convicted domestic terrorist bomber' into the equation, frightening does not even begin to describe it.
I strongly urge you to read Patterico's post in it's entirety.
"Because it can happen to you, too."
Speak up now, before you are forever forced to hold your peace.
What Can You Do?
Also see:
Via Terresa Monroe-Hamilton at Noisy Room.Net, others participating in exposing the monster Kimberlin, his wretched cohorts and the deep pockets who fund him from behind the scenes.
Bloggers Standing Against Terrorism in the Blogosphere:
If you have joined the ranks of those who are standing up and speaking out but do not find yourself listed, let me know and I will add you to the list.
Also see Michelle Malkin's list here and Jeff Dunetz's list here.
Update: Reports on Kimberlin's terrorizing of bloggers are beginning to surface in the MSM.
The Washington Examiner: How to kill the First Amendment
International Business Times: Who Is Brett Kimberlin? Meet The 'Speedway Bomber' Turned 'Liberal Activist'
Fox News: Leftist Blogger's Criminal Past Raises Questions About His Real Intent
Update 2:
ZOWIE!
#tcot MASSIVE #BRETTKIMBERLIN AGGREGATION AT MEMEORANDUM memeorandum.com/#a120525p90

— Robert Stacy McCain (@rsmccain) May 26, 2012
And when Stacy says massive, he means MASSIVE! Oh and to top it off,  it is at the very tip top of Memeorandum.