In May 2004 Obama attacked Bush by dismissing the 310,000 jobs added that month, which was accompanied by an unemployment rate of 5.6%.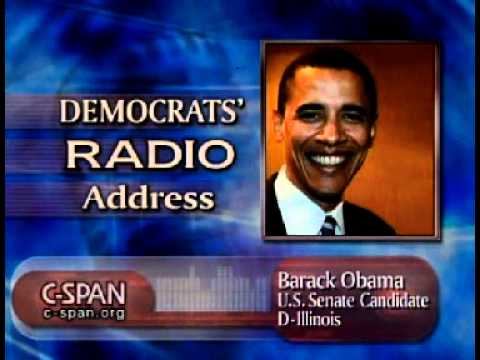 (Real Clear Politics) –"For the past few weeks, President Bush and members of his administration have traveled the nation to celebrate recent improved economic statistics. Well, I've been traveling too, all over this large and diverse state. In cities and suburbs, downstate and upstate, I've heard from people who say it's way too early to claim victory when it comes to our economy," Obama says in the Democrats' radio address from June 26, 2004.

"After three dismal years of job-loss, we all welcome encouraging statistics," Obama acknowledges in the 2004 address. "But for most Americans, the health of our economy is measured in a different and more personal way: If I lose my job, where will I find one that pays as well and offers real benefits? Can I afford health-care coverage on my own, or the cost of sending my children to college? Will I ever be able to save and retire with dignity and security? These are the questions I hear hardworking people asking. For them, the basic rewards of a middle-class life, rewards that we once took for granted, have become an elusive dream."
If that was the case, then yesterday's jobs report reflecting a paltry 80,000 jobs gain in June under Obama's watch must be –ABYSMAL! Not to mention an unemployment rate that remains stagnant at 8.2%.
One would think anyways. But not the Obama; the most blame free POTUS evah!
Back in 2009, Team Obama predicted that if Congress passed its $800 billion stimulus plan, the unemployment rate would be around 5.6% today.
In November try 'Betting on America' by sending the economic disaster Obama packing.