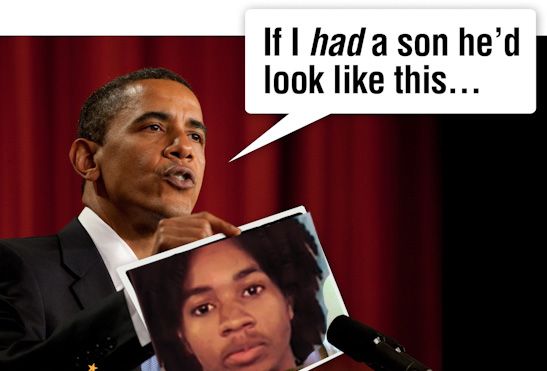 GREENVILLE, N.C. (AP/CBS Charlotte) –A man who shot four people near a Greenville Wal-Mart in June [2013] picked out his victims because they were white, according to several indictments handed down against him.

Lakim Faust had more than 100 rounds of ammunition [shot gun shells -VH] when he started shooting at people who were standing outside at a law firm and a shopping center in June, authorities said.

A grand jury indicted Faust on 14 charges Monday, including four counts of attempted first-degree murder.

Faust, who is black, picked out his victims based on their race, according to the indictments. The documents didn't specify why Faust wanted to shoot white people, and police have not talked about why he picked out his targets…
Let's see, a black dude specifically targets whites in a premeditated shooting spree…IDIOTS…hate whitey fueled ==>RACISM.
Faust, 23, was shot by police. He recovered and is now in jail.

Police seized computers and documents from Faust's home that showed he had a plan for the attack and wanted to shoot a large number of people, investigators said. [...]
WCTI: Was Faust a student of teh jihad?
When investigators searched Faust's apartment at 217 Hartford St. in Greenville, they seized a copy of the Qur'an, the holy text of Islam, and other Muslim books, warrants stated.
One thing for sure is that he is no stranger to murder charges:
According to court records, Faust was previously charged with two counts of attempted first-degree murder and two counts of attempted second degree murder for an incident that happened in Baltimore, Md. The charges were filed in November 2004, when Faust was 14 years old. No other details were released about the case.
Update: Listen to Greenville mass shooting 911 calls here.
Update 2: Faust is being held at Central Prison in Raleigh under a $6 million bond on four counts of attempted first-degree murder.
His victims are all white males between the ages of 50 -70. Thankfully all survived:
64 year old Timothy Edwards
70-year-old Carroll Oakes of Grifton;
69-year-old Vernon Leggett of Greenville
50-year-old Haywood Whichard, Jr. of Greenville.
Update 3: More on the islamic material found in Faust's home.

(WITN) –Seized in the search were several books, including The Holy Qur'an, Bloodlines of the Illuminati, On Being A Muslim, Umar (volume 1 & 2), and Fortress of the Muslim.

Police also confiscated over 122 shotgun shells, an envelope containing HealthyMuslim.com documents and a business card from a Greenville psychiatrist.
Police reports including the inventory of items seized pursuant to search warrants (listing the plethora of islamic material found in Faust's apartment).
0091_001


Among the islamic related materials found in Faust's apartment one item was listed as "Muhammed Mosque 79 — Your nations program ID". And it just so happens that Muhammad Mosque 79 is a Nation of Islam affiliated mosque located in Greenville, NC.,the very location of the mass shooting. Louis Farrakhan's Nation of Islam is a racist org. practicing a black supremacist flavored version of Islam, making Faust a prime NOI candidate.
Screenshot of their Facebook cover photo:
Link: http://www.facebook.com/pages/Greenville-North-Carolina-Study-Group
Here is a photo taken from the Facebook account above of Muhammad Mosque 79 in Greenville, N.C. (Note: the Farrakhan quote :
Flyer for the the 16th anniversary Nation of Islam Million Man March held in October of 2011. Muhammad Mosque 79 sponsored buses for the un-illustrious event:
Blazing Cat Fur links…thanks!
Bob Belvedere links at The Camp Of The Saints…thanks!
Related posts:
Navy Yard Shooting Gunman Aaron Alexis Created A Website With Name 'Mohammed Salem'
Black Wisconsin Teen Admits He Targeted Whites Because He Considered Them To Be "Easy Targets"