Eat cake proles! And then bow to your queen. Spit.

HOLY CRAP LOOK AT THE FIRST LADY'S DRESS. #BOWDOWN

— Shawna Thomas (@ShawnaNBCNews) February 12, 2014
I'd rather live on my feet.
On point:
What a good little obsequious palace toady you are. RT @ShawnaNBCNews HOLY CRAP LOOK AT THE FIRST LADY'S DRESS. #BOWDOWN

— David Burge (@iowahawkblog) February 12, 2014
$17.2 Trillion Debt. #Versailles RT @ShawnaNBCNews HOLY CRAP LOOK AT THE FIRST LADY'S DRESS. #BOWDOWN

— jon gabriel (@exjon) February 12, 2014
* @ShawnaNBCNews Follow! Submit! Obey! Follow! Submit! Obey!

— Andrew Wilkow (@WilkowMajority) February 12, 2014
Gush, drool, gush, drool. Hurl.
CNN: Michelle Obama's State Dinner Dress Cost Up To $12,000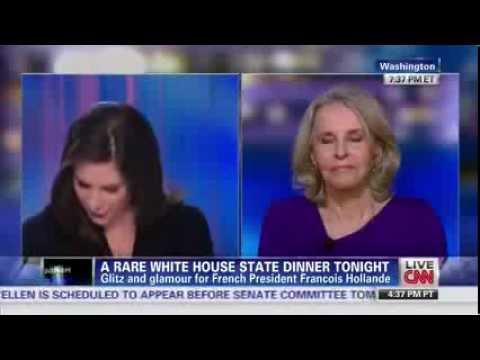 Elitism, it's what's for dinner. "Income inequality" spouting socialists living high on the hog thanks to the blood, sweat and tears of the working class.
The first course will feature American Osetra caviar, farmed from the estuaries of Illinois, paired with quail eggs from Pennsylvania and a dozen varieties of potatoes from farms in New York, Idaho and California.

That will be followed by a salad of petite radishes and baby carrots on a bed of lettuce and splashed with red-wine vinaigrette made using honey from the beehive on the South Lawn. The salad will be served in a clear, glass bowl and resemble a terrarium.

The main course, dry-aged rib eye beef from a farm in Greeley, Colo., will be served with blue cheese, charred shallots, oyster mushrooms and braised chard.

Dessert is chocolate malted cake, described as a modern version of a layer cake made with bittersweet chocolate from Obama's native Hawaii, Florida tangerines and served with vanilla ice cream from Pennsylvania. After dinner, guests can dip into a serving dish made entirely of sugar to sample fudge made of Vermont maple syrup, shortbread cookies made with lavender from Mrs. Obama's garden and cotton candy dusted with orange zest.

"And the bourgeoisie shall dine while the peasants fight for scraps in the dumpster." ~Ed
Obama should put our money where his mouth is. In other words, he should put some personal skin in the "income inequality" game by setting an example or STFU.
Guests will take small trolleys across the South Lawn to the tent, which will be transformed into a spring-like scene inspired by Claude Monet's Water Lilies paintings, with quince branches in full bloom, irises, blue agapanthus and lilies.
Related posts:
Naked Emperor O: "I Can Do Whatever I Want"
Under Obama Households On Food Stamps Reach All Time HIGH & Individuals On Food Stamps SKYROCKET
Also see:
New bill would require WH dinners to follow same as [FLOTUS Fat Czar's "Let's Move"] school lunch guidelines
FLOTUS Tweets Pic of Her Dogs Wearing Jewelry, Eating On China, While 47M Americans Are On Food Stamps
Michelle's $12,000 Dress Cost More Than Median Yearly Household Income Worldwide of $9,733
After Extravagant State Dinner, Obama to Speak on Horrors of Income Inequality