(NRO)– The execution of American journalist James Foley by ISIS represents a terrorist attack against the United States, a White House official told reporters Friday, adding that the organization could "pivot" to attacks on the scale of the September 11, 2001 attacks.

"When you see somebody killed in such a horrific way, that represents a terrorist attack," White House Deputy National Security Advisor Ben Rhodes told reporters. "That represents a terrorist attack against our country, against an American citizen, and I think all of us have the Foley family in our thoughts and prayers."
……

Asked if ISIS could carry out a 9/11-style attack, Rhodes said that the group doesn't appear to be planning one. "To date, we have not seen them focus on that type of planning, but that doesn't mean we're not going to be very mindful that they could quickly aim to pivot to attacks against Western targets outside of the region," he said. "If they show the intent or they show plotting against the United States, we'll be prepared to deal with that as necessary."
No worries America, make like a sponge and "absorb" it. Because according to Obama; 'what kills you makes you stronger':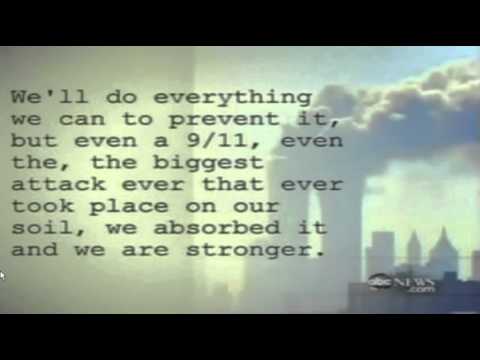 We can absorb a terrorist attack. We'll do everything we can to prevent it, but even a 9/11, even the biggest attack ever… we absorbed it and we are stronger."
I have an idea for Barrack Hussein Obama. How about we GIVE it for a change?

But somehow I can't escape the feeling that this flippancy comes from Obama's envy that George W.Bush got a "big event" to make his presidency while all Obama has gotten is a bad economy, massive job loss, and dissatisfaction at every level of society. No big disaster that he could make his nut on. Heck he even wasted the BP Oil spill with weeks of inactivity.

Others agree with me. "This is just another example of the Obama Administration's flippant attitude towards the War on Terror – a war they refuse to even identify or address. Instead of assuming the United States can just 'absorb' another terrorist attack, President Obama should be focused on creating a serious global strategy and fighting the dangerous ideology of Islamic extremism to ensure an act of war like September 11th never happens again," said David Bossie, executive producer of the film America at Risk.

I can just see him, green with envy that Bush got that big moment. If ONLY Hussein could get a big attack of his own, why THEN he'd show the world what a great president he could be! If only we could "absorb" a big one like 9/11, eh Barrack? And we'd take it…. and take it….

Now, remember the old days when we had a president that was willing to take the fight to the terrorists? Now we have a president that is waiting to "absorb" attacks on us, HERE. And we take it…

Yeah. Remember the good ol' days?
Link to ISIS tweet: https://twitter.com/Sunna_rev/status/498239066635124736
In related news:
Retired Intel Officer: Foley Rescue Attempt Failed Because Obama 'Dragged His Feet'
Chicago A Top Terror Target; Ominous Tweet Connects ISIS Threat In City
WH Tries To Explain Why It Was OK To Negotiate With Terrorists For Bergdahl But Not James Foley… Failure Ensues…
Reminders:
Obama Released al-Qaeda Linked ISIS Terror Leader Abu Bakr al-Baghdadi From Camp Bucca In 2009
2012: Obama Berates Romney For Wanting To Leave Troops In Iraq 2014: Obama Puts Boots Back On The Ground [FLASHBACK VIDEO]