A public union fat cat biting the very hands which she demands feed her. Quelle surprise.
[Video below the fold.]
CTU President Karen 'Ivy League Dartmouth grad' Lewis:
(Daily Caller) –In a scathing speech on Wednesday, the president of the Chicago Teachers Union charged that racism and "rich white people" are to blame for the immense financial crisis facing the Chicago Public Schools.

In her remarks to an audience at the upscale City Club of Chicago, union boss Karen Lewis strongly criticized Chicago Mayor Rahm Emanuel. She also urged the city schools to follow the strategic blueprint of the Chicago Cubs baseball team.
The upscale 'City Club of Chicago; fancy smancy! Thank God for the tax dollars of "rich white people"! Why didn't they meet at a community center or better yet at a school auditorium or gym??? Exactly.
"Members of the status quo — the people who are running the schools and advising the mayor on how to best run our district — know what good education looks like because they have secured it for their own children in well-resourced public and private institutions,"

When will there be an honest conversation about the poverty, racism and inequality that hinders the delivery of a quality education product in our school system?" Lewis also asked in the speech. "When will we address the fact that rich, white people think they know what's in the best interest of children of African Americans and Latinos—no matter what the parent's income or education level."
……
Lewis called for "an end to corporate subsidies and loopholes." She demanded "progressive taxation" to close the $1 billion budget deficit currently facing the Second City and its public schools.

Higher income tax rates on wealthy residents would generate billions in necessary revenue, the union chief suggested. She also proposed new taxes for commuters and for financial transfers. [...]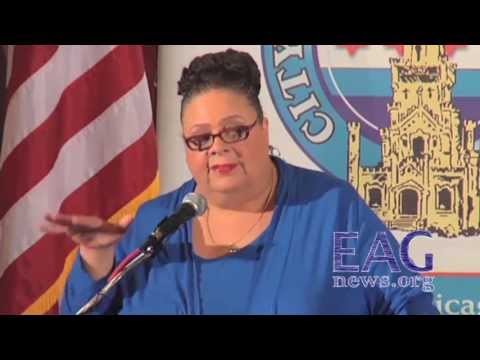 Video via
Warner Todd Huston
at Mr. Conservative who makes a most excellent point:
Chicago Teachers Union President Karen Lewis has all sorts of excuses for why the city's fetid schools are hemorrhaging money, failing to educate students, and laying off teachers by the hundreds. It's the fault of those darn "rich white people." Even though minorities control nearly every part of the school district.
……
But notice what this woman never discusses? Yeah, TEACHING. All she talks about is union contracts, wages, benefits, and her anger about cuts in spending. The kids and their education is as far from Lewis' mind as the next school year is from Chicago's kids who were just released for the summer.

Like all representatives of a government employee union, Lewis is only interested in race cards, hatemongering, divisive rhetoric, and lies.

There is a reason why government employee unions were illegal all the way from the birth of this country until 1958. They are un-democratic, against the best interests of the voters, and bad for our government. Even Franklin D. Roosevelt, the patron saint of extreme liberalism, was against government unions.

Unions are antithetical to good government and teachers unions are a detriment to our kid's education.
By the way, Karen Lewis has been "praised as a "fist-in-the-air, crowd-rousing, dynamic union leader" by by former Communist Party revolutionary turned Obama-funded "school reformer" Michael Klonsky":
She's good at pandering to her Che Guevara T-shirt-wearing colleagues and trash-talking the political machine. But she is the machine.

The Chicago Teachers Union rakes in nearly $30 million in forced dues from rank-and-file teachers every year. CTU is an affiliate of the behemoth AFL-CIO, which dropped an estimated $100 million in forced dues to support Democratic candidates and causes during the 2008 and 2010 election cycles.

Before Lewis took control of the CTU, the union was teetering on bankruptcy and owed millions of dollars in loans. The previous CTU president pulled down nearly $300,000 a year in base salary and compensation. Local union watchdogs reported that top CTU officers and staff with six-figure salaries and bonuses also received:

"… a monthly expense account for each administrator — officers, coordinators and field representatives — of $1,500; a car allowance of $7,000 per year (whether or not you have a car); 85 percent of car insurance and expenses paid; parking allowance; cellphone allowance; life insurance paid with union dues; and among other perks, a 53rd week of yearly pay for "working" over the Christmas holiday."

Lewis assumed the CTU presidency in June 2010. "Teachers union officials declined to provide information on Lewis' salary," The Chicago Tribune reports [Link -ed.] but records show that she made more than $71,000 for half a year's work in 2010 — along with compensation from the Illinois Federation of Teachers in 2011 totaling at least an additional $64,000 on top of her unknown base salary and benefits.
ALL at the expense of taxpayers.
It is high time that public unions are dismantled.
Read another eye opening expose on Lewis by Michelle Malkin here.