Semper Fi!
"We're gonna annihilate these union thugs on Tuesday [June 5 recall election]. We're gonna send a message to the rest of the United States that your time is coming."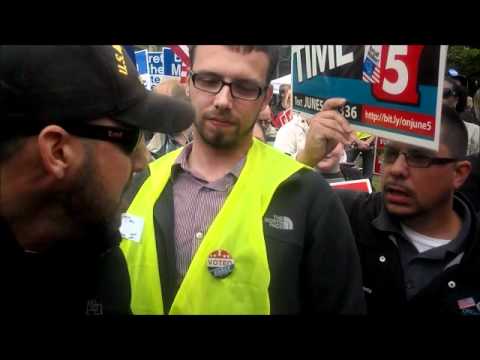 Video clip of the Marine Vet being dragged away. Listen to the union thugs cheer as his rights are stripped. "Why agitate the people?" BECAUSE the anti-free speech union mob are the ONLY people that count. NOT a Marine Veteran who fought to protect free speech for ALL. Spit.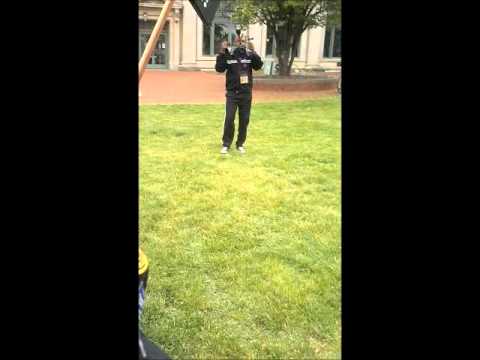 "I have no idea why I'm being handcuffed," he told the gaggle of reporters who had followed him. "They won't tell anybody what I did wrong. What rally specifically do I get to peacefully protest?"
The likelihood of his being allowed to peacefully protest in Milwaukee, are slim to none:
Quite aside from the free speech rights, it's stupid to arrest someone in this situation. Now, he's the story, instead of Clinton rallying for Barrett. And the police are the story. The Milwaukee police. The Madison police didn't treat protesters/counter-protesters this way. And you know something about Milwaukee? Its mayor is Tom Barrett.
Wisconsin unions are in panic mode, as their union slave ranks have shrunken dramatically after Gov. Walker ended mandatory union membership.
#tcot #wiunion MT @rich1moore Wis. AFSCME went from 68881 members to 28748 after mandatory dues ended. When hostages are freed. They walk away.

— Velvet Hammer (@velvethammer) June 1, 2012
Numbers speak louder than words. And those dwindling numbers are making Union higher -ups, shake in their jack boots.
Ed Morrissey has the details here.
Update: Perspective.
A 14-year-old girl speaks at the Tea Party rally in Madison and is drowned out by chants, boos, and cowbells. [April 2011]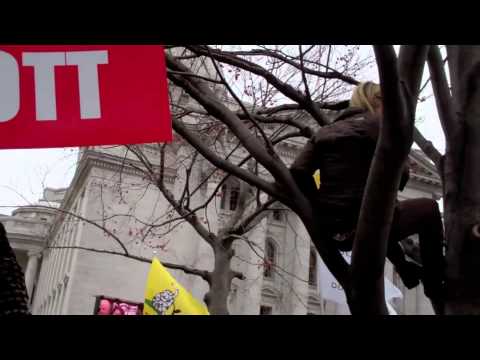 Update 2: Fewer Than 1,000 People Show Up for Bill Clinton-Tom Barrett Rally in Milwaukee
Update 3: The veteran 'David Willoughby' speaks out via a statement he released to the PJ Tatler:
It turns out that the man, David Willoughby, is a veteran of the US Marine Corps. Today he has released a statement about his arrest.

It begins: My name is Dave Willoughby. I am the one in the video.

Without being told what I had done, I was handcuffed and escorted off premise. Placed in a squad car and taken to a police station. I asked if I should have my rights read to me and was told "You're not being arrested."

My personal property was taken from me, I was fingerprinted, mug shot taken and locked in a dark jail cell (lights off) still handcuffed.

I sat in that jail cell, looking out of a meshed wire window, at a large American flag flying in the background. Where am I? How can this be happening? What did I do wrong? I prayed for strength.

When I swore the oath to protect and defend the Constitution, I never realized until recently, how vulnerable our precious freedoms actually are.

I did nothing wrong. There were literally hundreds of cameras at this event. I challenge all media to find one shred of evidence, which would support the actions of the Milwaukee PD officers.

Does Mayor Barrett approve?

……
According to the police citation, which Willoughby read to me over the phone, Willoughby (seen at left at a Tea Party rally) is accused of the following:

"During a political rally, subject raised a protest sign above his head in a manner that created danger to the public. Subject's actions caused a disturbance during a political rally." The citation carries a $185 fine and has a July court date. Mr. Willoughby is not in jail, but says that he will fight the citation on the grounds that he did absolutely nothing wrong and was exercising his free speech rights.
This. Can. Not. Stand.
H/T Duane Lester at Liberty News Network, who also links…thanks!