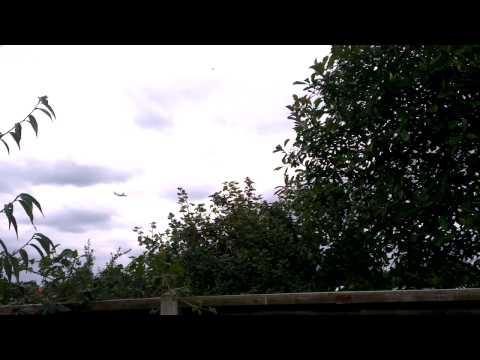 (BBC) –Military jets have escorted a passenger plane to Manchester

Airport after reports of a possible device on board.

The Qatar Airways plane was escorted in to land by the Royal Air Force (RAF) following information received by the pilot.

Greater Manchester Police said officers were treating it as a "full emergency" and armed officers have boarded the plane.

All flights in and out of the airport were suspended for about 25 minutes.

It is understood the plane involved is an Airbus A330, which was escorted by a Typhoon from RAF Coningsby in Lincolnshire.

Operations at the airport resumed at about 14:00 BST, after the plane landed at a terminal.

Passengers have been disembarking from the plane "as normal", an airport spokesman said.

Ch Supt O'Hare said: "An incoming plane has been escorted into the airport by the Royal Air Force as a result of information received by the pilot about a possible device on board. [...]
Developing…
UPDATE: A passenger has been arrested and is in custody.
(Sydney Morning Herald) –Manchester: British police have arrested a man on suspicion of making a hoax bomb threat after two fighter jets escorted a Qatar Airways plane into Manchester Airport. The pilot had reported a possible explosive device was on board.

The incident, which prompted the authorities to close the northern England airport for 25 minutes, briefly raised fears of a terrorism attack.

Qatar Airways said the Airbus A330-300 plane was flight QR23 from Doha to Manchester with 269 passengers and 13 crew on board.

A Reuters photographer [see photo below -VH] saw armed police remove a handcuffed male passenger dressed in baggy trousers and a sports shirt from the plane.

Greater Manchester Police said on their official Twitter feed that they had detained one man in connection with the incident.

"A man who was on board the plane … has been arrested on suspicion of making a hoax bomb threat," they said. [...]
Photos:
Police arrest man aboard Qatar Airways plane after RAF escort to Manchester Airport pic.twitter.com/qBYffrHIX0 (via @mattpeterc) #QR23 #QTR23

— Gregor Peter (@L0gg0l) August 5, 2014
IBTimes:
Armed police have detained a man on board the Qatar Airlines flight which was escorted into Manchester Airport by a fighter jet following a threat over a "possible device". …… The man arrested allegedly passed a letter to a member of the cabin crew claiming there was a explosive device on board. He was later arrested on suspicion of making a hoax bomb threat and is currently being held in custody. Greater Manchester Police said they treated the incident as a "full emergency". All flights going in and out of the busy airport were temporarily suspended during the incident, but a GMP spokesperson said it is now "business as usual". A passenger on board the flight was escorted off the plane by armed police after it safely landed at the airport. [...]
Confirmed Qatar Airlines flight QR23 was flying from Doha, Qatar.
Flight path for Qatar flight #QR23 from Doha that was escorted by RAF into Manchester Airport pic.twitter.com/ZEVLDZa8op

— Flightradar24 (@flightradar24) August 5, 2014