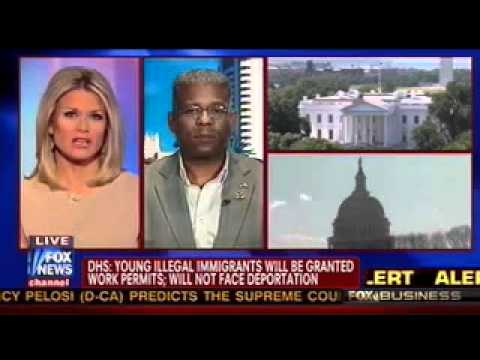 This is yet another example of executive branch overreach. We have a legislative process that ensures representative governance by the consent of the American people. This action should be crafted into legislation, debated in committee and brought before the House and Senate for vote, with accordance of our Constitutional Republic way. Secretary Napolitano is an unelected administrative bureaucrat who does not have the right to make governing decisions for this country. It is apparent that the goal of the Obama administration is not to govern, but rule by edict. This again is a reflection of the desperation of President Obama and his liberal progressive disciples as November draws nearer. I find it ironic that Secretary Napolitano would not assist our State of Florida with ensuring the integrity of the voting process but she can make a unilateral decision about who can reside in America.
With all due respect to Congressman West, I'd say it's more systematic than ironic.
Throughout all their whining and crying over lack of 'immigration reform', Obama and the (left-wing) illegal alien amnesty cabal forget this significant detail, regarding the failure of the DREAM Act:
There's one problem: we have a legislative body that passes laws, not a president or a king.  The Senate defeated the DREAM Act in 2009, even though Democrats had a supermajority.

What happened to the Constitution?
……
This administration is setting a dangerous precedent.

Congress must reassert its constitutional authority over immigration law.  They should hold public hearings and shed some light on the darkest corners of this administrative power grab.  Moreover, they must refuse funding for any program that grants administrative amnesty.
Me oh my! There must be a helluva lot of xenophobic/racist/bigots among Senate Democrats. For shame! For shame!
H/T Rachel at Thoughts From A Conservative Mom
Update:
Rep. Steve King (R-Iowa) is speaking out too. He is prepared to fight Obama's immigration 'edict' in court.
"This man has refused to enforce immigration law, and now he issues an executive order that essentially institutes an amnesty program by executive order and I think this needs to go to the courtroom and I'm prepared to go there,"
…..
"What the president is doing is ordering that his executive branch carry out a policy that is in direct violation of constitutionally and congressionally passed federal law,"