The Democrat Congressional Campaign Committee's (DCCC) pet project's 'taste for cop blood' streak continues.
(All Voices) –From its inception, the Occupy movement was often faulted for not stating goals or demands. But during a flamboyant 9-month run at Oakland, California, Occupy crystallized into a single, unmistakable objective: F*** The Police. Beginning on New Year's Eve, Occupy Oakland's weekly FTP marches have become the group's public face so much so, in fact, that even non-FTP events such as June 30′s Feminist Vigilante March ("Tonight femqueers run this town! Burn the patriarchy down!") have followed FTP's standard beeline from a public park near 19th St. & Telegraph Ave. to Oakland Police Dept. headquarters, then to the county jail two blocks away.

Such was the modus operandi of Occupy Oakland's F*** The Fourth march on America's July 4 Independence Day, except it kicked off at 8 p.m. outside City Hall instead of uptown. Staged by anarchists, FTF was highlighted by brazen vandalism. The driver's door of an unattended OPD cruiser was kicked in and its logo quickly painted over with the anarchist trademark. More dramatically, "FTP KILL COPS" graffiti was painted on the frosted windows of OPD HQ. Finally, aping FTP's obligatory flag-burning, FTF torched Old Glory in the street outside the pink stuccoed Mexicali Rose Restaurant across from the jail.

Two hours later, summing up via Twitter, FTF organizer PFailBlog declared: "Oh, what a night. F*** you OPD, we win."
Insult to injury:
"No one was arrested in the vandalism or fire-setting, but a protester was arrested on suspicion of not having a sound permit for a speaker system and obstructing an officer, police said."
Photos of Occupy Oakland's incitement to murder police handiwork:
Occupy Oakland's F*ck The Fourth flag burning was a group effort:
The torched remains of the US Flags were wrapped around Oakland City Hall's front door handles:
View the full photo set on Facebook here.
More flag burning captured on video. Watch for it around the :34 second mark.
#OO #F*ckTheFourth March. Oakland, CA July 4, 2012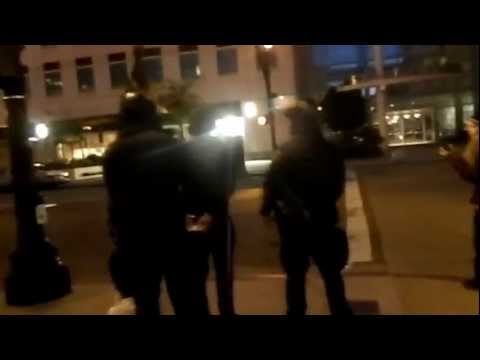 That the DNCC supports these violently inclined, anti-American degenerates is…all we need to know…
H/T H.J.
Also see: