O Regime hard drive crash lost emails obstruction of justice deja vu.

Not a smidgen of corruption credibility.
Another Obama Regime bureaucrat's computer hard drive crashed which resulted in lost emails?! Un-freaking-believable! They lie straight to our faces and insult us with their expectation that we swallow their bilge.
Annnnnd…the retired EPA employee in question; Philip North is no where to be found. How convenient!
Fox News' Chad Pergram breaks the news via Twitter:
#BREAKING: More missing emails. This time at EPA. Crashed ard drive belonging to retired employee. EPA didn't tell Nat'l Archives until Tues

— Chad Pergram (@ChadPergram) June 25, 2014
EPA's McCarthy to Oversight cmte on crashed hard drive: We are having trouble acquiring the data. — Chad Pergram (@ChadPergram) June 25, 2014
EPA's McCarthy to Oversight cmte on crashed hard drive: It seems as if there are some records that we cannot produce

— Chad Pergram (@ChadPergram) June 25, 2014
EPA's McCarthy to Oversight Cmte on crashed hard drive: I am still hoping we acquire these emails. — Chad Pergram (@ChadPergram) June 25, 2014
Missing EPA emails belong to Philip North, now-retired EPA employee in AK. Oversight cmte says he worked against Pebble Mine project in AK.

— Chad Pergram (@ChadPergram) June 25, 2014
Crashed EPA hard drive belonged to Philip North. Refused O'sight Cmte iview. No one now knows where North is. Had planned yr long boat trip. — Chad Pergram (@ChadPergram) June 25, 2014
WAKE UP AMERICA! The tyrannical Obama Regime is marching U.S. down the road to a full blown Banana Republic at warp speed.
H/T Zip
UPDATE: Ace has the deets: EPA Refuses to Turn Over Subpeonaed Documents to Congress; Agency Explains That Some Subpoenaed Emails Were "Lost" In a "Hard Drive Crash" in 2010
Excerpt:
Issa is probing whether the White House illegally coordinated with the EPA on how to avoid turning documents over to Congress.

The hearing also included a bit of deja vu for the committee when members grilled McCarthy on lost emails from a hard-drive crash (the same issue that wiped out emails from IRS employee Lois Lerner). In this case, the emails in question were from retired EPA employee Philip North, who was involved in the agency's decision to begin the process of preemptively vetoing the Pebble Mine project in Alaska.

North, who declined an interview request by the committee, is retired, and committee staff say they have been unable to track him down. According to a committee aide, North's hard drive crashed in 2010–which was around the same time that the committee is investigating the agency's discussions of a potential veto–and the emails were not backed up.

They're basically daring us to impeach them.
UPDATE 2: According to The Hill North's whereabouts are known, but he refuses to cooperate with the committee who have been trying for nearly a year to interview him. The cynical among us may wonder if North retired and subsequently left the country in order to evade Oversight Committee investigation.
[...] The committee suspects that Phillip North, who worked for the EPA in Alaska, decided with his colleagues to veto the proposed Pebble Mine near Bristol Bay in 2009, before the agency even began researching its potential impacts on the environment.

Committee staffers have been trying for about a year to interview North, but he has been in New Zealand and refuses to cooperate, they said.

"We have tried to serve a subpoena on your former employee and we have asked for the failed hard drive from this Alaskan individual who now is in New Zealand, and seems to never be returning," Rep. Darrell Issa (R-Calif.), the committee's chairman, said Wednesday.

Emails provided by the committee show that EPA told congressional investigators about the hard drive crash months ago. But McCarthy said she only told the National Archives and Records Administration (NARA) about the problem Tuesday.

The NARA enforces the Federal Records Act, which governs federal agencies' responsibilities to maintain records.

Rep. Mark Meadows (R-N.C.) said EPA probably violated the Federal Records Act by not backing up North's emails. [...]
UPDATE 3:
EPA Administrator Gina McCarthy's (another no nothing Obama regimist) testimony regarding the oh so predictable hard drive crash resulting in lost emails excuse.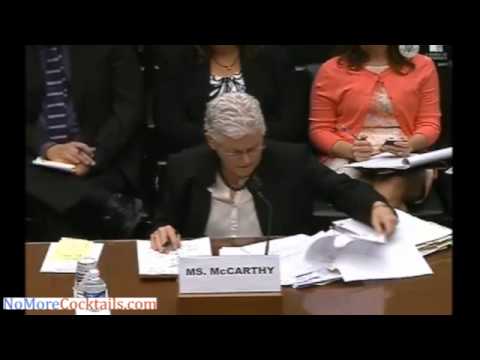 "What is it with bureaucrats and public employees … the hard drives crash?
–Rep. Kerry Bentivolio (R-Mich.).
Obama's America: IRS emails – "lost" EPA emails – "lost" Private citizen's emails – Got'em

— Matthew (@Matthops82) June 25, 2014
Apparently, the leading cause of hard drive failures is subpoenas.

— David Burge (@iowahawkblog) June 25, 2014