Oorah!
Finally a representative with the stones to stare down islam's islamists in their deceptively masked faces!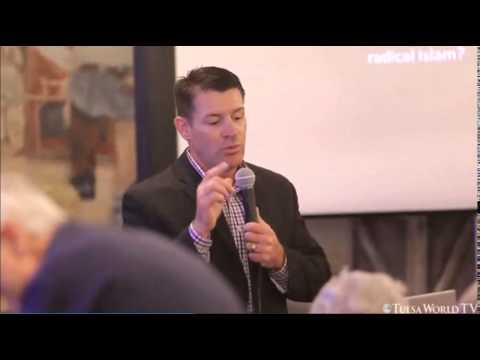 (Tulsa World) –SALLISAW — State Rep. John Bennett, R-Sallisaw, meeting Monday night with about 85 constituents at a Republican gathering at Western Sizzlin' here, did not back down from statements he made earlier this month that were critical of Islam.

Bennett has been at the center of a political maelstrom that has gained national attention since he published comments on social media warning people to be wary of Muslim Americans and then refused to apologize in the face of mounting criticism.

Asked before the meeting whether he planned to apologize for his comments, Bennett said, "No. Because I'm right, and they know I'm right."

"CAIR (Council on American-Islamic Relations) used political pressure to make me back down, but I didn't and I'm not going to," he said to a standing ovation.

Bennett, who served in the U.S. Marines in Iraq and Afghanistan, said he has heard from people all over the world supporting his position.

In a lengthy presentation that included videos made within U.S. mosques, Bennett outlined a history of the Islamic faith and his views that Islam is a sociopolitical movement intent upon destruction of Western civilization and world domination.

"Their goal is the destruction of Western civilization from within," he said.

"This is a cancer in our nation that needs to be cut out."
……
He said the FBI has severed ties with CAIR [FACT] in part because the organization was alleged to be an unindicted co-conspirator in a major trial about funding terrorism.


Ibrahim Hooper, communications director of CAIR in Washington, D.C., said the unindicted co-conspirator charge against CAIR was legal "mumbo jumbo" that came out of the *Holy Land Foundation trial in 2007.

"The key word is 'unindicted,'" he said. [...]
Hey Ibrahim! Here are a few key words for you. Federal Judge Agrees: CAIR Tied to Hamas
Oh and about CAIR being "un-indicted" we have only the treasonous Obama Regime to thank for that. And it was not on the basis of lack of evidence.
Treason –The Obama Administration Drops CAIR Terror Financing Indictments

Speaking of CAIR's terrorist ties:
Notable facts about CAIR's pas de deux with Islamic extremism and terrorism include the following:
Co-founder Nihad Awad asserted at a 1994 meeting at Barry University, "I am a supporter of the Hamas movement." Awad wrote in the Muslim World Monitor that the 1994 trial which had resulted in the conviction of four Islamic fundamentalist terrorists who had perpetrated the previous year's World Trade Center bombing was "a travesty of justice."
On February 2, 1995, U.S. Attorney Mary Jo White named CAIR Advisory Board member and New York imam Siraj Wahhaj as one of the "unindicted persons who may be alleged as co-conspirators" in Islamic Group leader Omar Abdel Rahman's foiled plot to blow up numerous New York City monuments.
On June 6, 2006, CAIR's Ohio affiliate held a large fundraiser in honor of Siraj Wahhaj. Following the event, CAIR-Ohio issued a press release heralding the more than $100,000 that Wahhaj had helped raise that evening for the organization's "civil liberties work."
In October 1998, CAIR demanded the removal of a Los Angeles billboard describing Osama bin Laden as "the sworn enemy." According to CAIR, this depiction was "offensive to Muslims."
In 1998, CAIR denied bin Laden's responsibility for the two al Qaeda bombings of American embassies in Africa. According to Ibrahim Hooper, the bombings resulted from "misunderstandings of both sides."
In September 2003, CAIR's former Community Affairs Director, Bassem Khafagi, pled guilty to three federal counts of bank and visa fraud and agreed to be deported to Egypt. Federal investigators said that a group Khafagi founded, the Islamic Assembly of North America (ISNA), had funneled money to activities supporting terrorism and had published material advocating suicide attacks against the United States. Khafagi's illegal activities took place while he was employed by CAIR.
In July 2004, Ghassan Elashi, a founding Board member of CAIR's Texas chapter, was convicted along with his four brothers of having illegally shipped computers from their Dallas-area business, InfoCom Corporation, to Libya and Syria, two designated state sponsors of terrorism. That same month, Elashi was charged with having provided more than $12.4 million to Hamas while he was running HLF (Holy Land foundation). In April 2005, Elashi and two of his brothers were also convicted of knowingly doing business with Hamas operative Mousa Abu Marzook, who was Elashi's brother-in-law. Elashi's illegal activities took place while he was employed by CAIR, whose Dallas-Fort Worth chapter depicted the Elashis' indictment as "a war on Islam and Muslims."
Much MORE here.
Bottom line, CAIR has zero moral superiority high ground since they lie in the gutter with islamic jihadists hell bent on finishing what Muhammed started.
For those who wish to learn more I recommend the Investigative Project on Terrorism's (IPT) dossier on CAIR:
The Council on American-Islamic Relations (CAIR): CAIR Exposed
*Holy Land Foundation check to CAIR image courtesy of  Anti-CAIR.org a veritable treasure trove of all things CAIR.
Also see: Islamic Oklahoma Beheading! Suspect Had Been Trying To Convert Co-Workers To Islam UPDATE: Fired After He Told Co-Workers Women Should Be Stoned, Shouted Islamic Phrases During Attack
The Rebel links at SodaHead…thanks!
Related posts:
Obama You Are Correct "No Religion Condones Killing Of Innocents" BUT The Irreligious Islam's UnHoly Quran Does So With Fervor
Muslims Victims of Majority of Hate Crimes? Not According to FBI Anti-Religion Hate Crime Stats
Former Muslim Who Left "Sick And Evil Religion" Of Islam Warns "Islam Means Surrender"