'It's our turn to usher in communist slavery and genocide in the 'land of the free'. All the cool Occu-Commie kids are doing it'. SPIT.
Via Matthew BoyleThe Daily Caller
Former Amalgamated Transit Union local 689 president Mike Golash, now an "Occupy" movement organizer, was caught on tape Sunday revealing his political goals: overthrowing capitalism in the United States and instituting a communist government.
Love that the now infamous Nancy Pelosi "God Bless" the occupiers clip starts the video off. Nice touch.
Occupy DC "People's Assembly" on August 19 - @Facebook.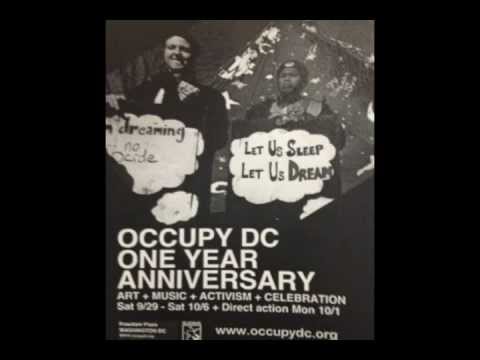 Danielle Saul
"Progressive labor is a revolutionary communist organization."

"Its objective, is to make revolution in the United States, overthrow the capitalist system and build communism."

"We are trying to learn something from the historical revolutions of the past: the Russian revolution, the Chinese revolution, the revolutions in Cuba and Eastern Europe."

"What can we learn from them so we can build a more successful movement to transform capitalist society?"

"An organization has to be built which can bring down capitalism."
Update: Stacy McCain:
Mike Golash was speaking on behalf of the Progressive Labor Party, a Maoist group which (if memory serves) was instrumental in fomenting the 1969 split in Students for a Democratic Society that led to the formation of the Weather Underground.
Much more here.
Also see:
Sleeping With Dogs…Democrats Launch Petition in Support of #OccupyWallStreet
Shawker! Obama Regime Refuses To Condemn OccuCommies After Violence At NATO Summit
Obama Adviser USW Head Leo Gerard: #OccupyWallStreet Needs "More Militancy"; Seizing Of Bridges & Banks
Obama: #OccupyWallStreet Protesters 'Express Frustrations That Americans Feel' BUT ObamaCare Opponents Are "Teabag, Anti-Government People [Who] Will Encourage Extremists"
The 'American Nazi Party' Stands in Solidarity with #OccupyWallStreet"
Obama's DOJ Refuses to Investigate #OccupyWallStreet's Threat to Public Safety
But of Course…Communist Party USA "Solidarity with #OccupyWallStreet" [Update: Video: CPUSA Marches with #OccupyChicago - Update 2: Communist Marching with #OccupyChicago OFA Organizer for Obama]