Watch your back Israel. Obama has been setting the stage, and this appointment is but the latest of his anti-Israel maneuvers.
WASHINGTON (AP) –A White House official says President Barack Obama will name former aide Samantha Power as the U.S. ambassador to the United Nations.

Power will replace Susan Rice, who will take over as Obama's national security adviser. The official says Obama will announce both appointments from the White House Wednesday afternoon.

Power is a longtime Obama adviser who worked on his 2008 presidential campaign and ran the human rights office in the White House. She left the administration in February but was considered the favorite to replace Rice at the U.N. [...]
It appears that being the face of the Obama Regime's Benghazi coverup has been quite lucrative for Susan Rice.
BTW Samantha Power's other half is Cass "Nudge" Sunstein
Update: Fox News' Tod Starnes shares his pithy thoughts:
Susan Rice will soon be responsible for our national security. Sleep well, America.

— toddstarnes (@toddstarnes) June 5, 2013
I do not see restful sleep coming for a long time.
Obama's appointment of Susan Rice is a great big "up yours" to the nation.

— toddstarnes (@toddstarnes) June 5, 2013
Most notably the Benghazi Four and their loved ones.
Anyone remember the last presidency that intentionally tried to destabilize the nation?

— toddstarnes (@toddstarnes) June 5, 2013
No. But I'd take it a step further by saying that Obama is intentionally destabilizing the world.
Update 2: Meet Upcoming U.N. Ambassador Samantha Power: 10 Reasons Why She's the Most Dangerous Woman in the World –Politichicks.tv
Update 3: Power's "doctrine of the mea culpa." Admitting guilt and apologizing for America. Spit.
Update 4: Cold, calculating bastard. Straight up.

Fox Analyst: Obama Elevated Susan Rice To Position Where She 'Doesn't Have To Testify' On Benghazi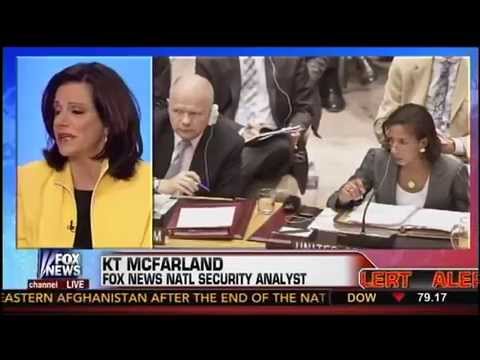 H/T BC at I'm A Man I'm 41
Samantha Power's Five Worst Statements – Washington Free Beacon
————————————————————————————————————————————————————
See: Flashback Video: Obama Advisor Samantha Power Called for an R2P Military Invasion of Israel
Related:
Powerful! New Video Exposes How Obama Went From Smiling In Israel's Face To Stabbing Israel In The Back –Over & Over Again
Under Clinton Susan Rice Stymied Bin Laden Capture, Over Election Concerns Was Bystander To Rwandan Genocide