BAM!
"So you've had all this time, five years, to determine whether he was a deserter or not. That's a long time."
Via Nice Deb:
Harf thus breezily dismissed the multiple accounts of Bergdahl's desertion that have emerged over the past several days, suggesting to  Tomlinson that if he  "Googled it "  he'd find "a ton of conflicting reports."

But the accounts I've seen from Bergdahl's platoon mates have all been strikingly similar. The only one that differs is the account by Bergdahl himself in the Haqqani propaganda video, in which he said he was captured when he lagged behind his patrol.

After the past few days of the truth gushing out of Bergdahl's old platoon like a geyser, pretty much everyone but the most brain dead drones understand that that account was a lie. [...]
Watch: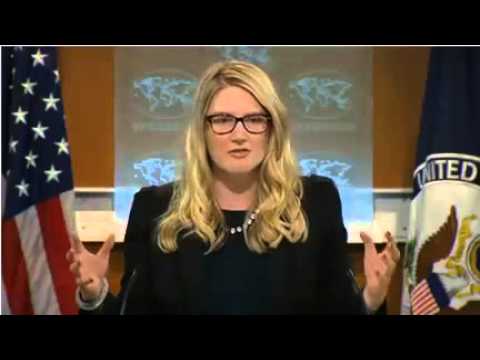 Transcript:
FOX NEWS'  LUCAS TOMLINSON: Does the State Department consider Sergeant Bergdahl to be a deserter?

MS. HARF: The State Department – no, Lucas. Look, what we said is we are going to learn the facts about what happened here. We said very clearly in a statement from the Secretary on Saturday that Sergeant Bergdahl was a member of the United States military who volunteered to serve his country. We don't know the facts about what happened yet on that day.

TOMLINSON: (Inaudible) according to those around him, his platoon mates, his squad mates, company mates, they said he walked off the base.

MS. HARF: Lucas, some of them – other – there are conflicting reports out there about this. Look –

TOMLINSON: Are there?

MS. HARF: There are. Go Google it on the web and you'll find a ton of conflicting reports. The fact is we're still establishing a fact pattern about what happened, how he ended up in Taliban captivity. So when he is able to share those, as Chairman Dempsey said today, he will. He also said, like any American, he is innocent until proven guilty. Our army's leaders will not look away from misconduct if it occurred. In the meantime, we will continue to care for him and his family.

So I think people need to be really careful about believing every second or third-hand report out there, and also what the President, what the Secretary, what Chairman Dempsey have said: Regardless of how he went missing, it is our responsibility to him to bring him home, period.

TOMLINSON: And when you say second- and third-hand reports, when his squad mates who served with him overseas said he walked off the –

MS. HARF: Lucas, I'm sure some of them – I mean, look, there's a lot of rumor and telephone game that's being played here about what happened. Not all –

TOMLINSON: So you're saying that the guys on television last night – his squad mates, platoon mates – were not correct?

MS. HARF: I'm saying we don't know the fact pattern yet here. We don't. Nobody knows exactly what happened that night. As the facts emerge, as he's able to discuss them with the Department of Defense, we will see where that takes us.

TOMLINSON: Going back to –

MS. HARF: That happened five years ago. This is a situation –

TOMLINSON: So you've had all this time, five years, to determine whether he was a deserter or not. That's a long time.

MS. HARF: He's been in captivity, Lucas. I think he's probably the person who knows best what happened on that night.

TOMLINSON: But – well, I think that his squad mates have the best indication what happened that night.

MS. HARF: I don't think that that's the case.

http://www.state.gov/r/pa/prs/dpb/2014/06/227073.htm
A lying liar calling soldiers liars. Has she no shame? That's a rhetorical question folks.
And ICYMI Obama's United States National Security Advisor. Susan Rice was trotted out yet again to engage in damage control.  When asked if Bergdahl was a deserter she responded; "He served the United States with honor and distinction."
So there you have it America, Susan Rice is once again a major catalyst to pushing yet another false regime narrative — lying straight to our faces AGAIN — but –'what difference does it make' whether or not Bergdahl is a deserter? Regardless of what BS State Dept spox Marie Harf spews, the Regime has already predetermined that he is not.
False talking points prepackaged for low-info voters consumption.
Nice Deb also has an informative Bergdahl roundup here.
And I highly recommend Michelle Malkin's:Exclusive: The story you haven't yet heard about Bowe Bergdahl's desertion Michelle's piece includes a link to a petition demanding that Bergdahl be punished for his AWOL/desertion.
Related Posts: