Oh the inanity! Oh is it insanity? Close call.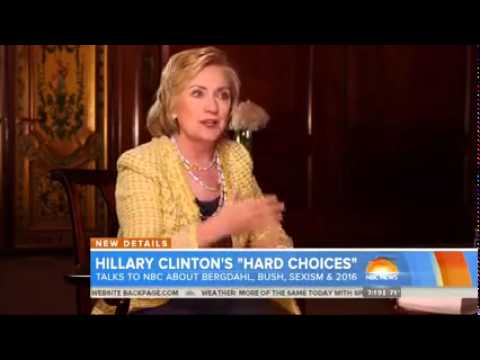 CYNTHIA MCFADDEN: Clinton writes in her book, the U.S. was involved in negotiations with the Taliban while she was Secretary of State, and even then, getting Bowe Bergdahl back was part of the equation. I think an awful lot of people think that we're less safe today than we were a week ago because these five guys are out.
HILLARY CLINTON: These five guys are not a threat to the United States. They are a threat to the safety and security of Afghanistan and Pakistan. It's up to those two countries to make the decision once and for all that these are threats to them. So I think we may be kind of missing the bigger picture here. We want to get an American home, whether they fell off the ship because they were drunk or they were pushed or they jumped, we try to rescue everybody.
Keep talking Hillary, maybe someday you'll say something intelligent.
Reminder:
LOOK at them, LEARN their names, KNOW their crimes… you WILL see them again. #Taliban5 #TalibanDreamTeam #Bergdahl pic.twitter.com/gvV2Bwo7qp

— Vigilant Veteran (@VigilantVeteran) June 4, 2014
Related Posts: