It is waaaaay past time for the old goat to be put out to pasture.

"We have so much to address over the coming weeks, Mr. President. Sportsmen's bill denied, the highway bill, emergency supplemental, manufacturing legislation… we going to do something about the Hobby Lobby legislation, we need to correct."
H/T Caroline Schaeffer at IJReview who adds:
Hobby Lobby… legislation? Senator Reid, I don't think you know how this works. The Senate cannot undo a decision made by the Supreme Court, unless it wants to act outside of the Constitution. Not a problem for some in the Democratic Party, but there you have it.

Here's a refresher course, Mr. Reid, in case you need some brushing up on high school civics.
Mind-numbingly idiotic.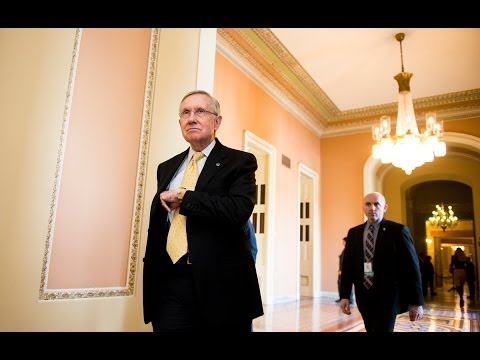 "The one thing we are going to do during this work period, sooner rather than later, is to ensure that women's lives are not determine by virtue of five white men,"
Since Harry is to lazy to read the Supreme Court's Hobby Lobby decision, a visual aid and the fine details of who sided with who:
The four liberal Justices Elena Kagan, Sonia Sotomayor, Ruth Bader Ginsburg, and Stephen Breyer — dissented on Monday.

Justices Antonin Scalia, Clarence Thomas, and Anthony Kennedy, along with Chief Justice John Roberts, joined Alito in the majority opinion.
Next time Harry do your own damn homework.
Previously: