Dear God.
(WPXI) –WESTMORELAND COUNTY, Pa. — Emergency crews have been sent to Franklin Regional High School Wednesday morning after reports of "multiple stabbings."

Westmoreland County emergency management spokesman Dan Stevens said one person is in custody. Stevens said there are possibly five to six victims.

Franklin Regional High School is located in Murrysville, Westmoreland County.

According to the school district's website, "A critical incident has occurred at the high school. All elementary schools are cancelled, the middle school and high school students are secure. Additional information will be released as soon as possible. Please keep our campus clear of traffic."
UPDATE:
MURRYSVILLE (KDKA) – Police and paramedics are on the scene of a stabbing at Franklin Regional High School in Murrysville.

A Franklin Regional High School resource officer says 20-students have been injured, four of those are serious.

Forbes Hospital says 7 victims have been taken to their hospital, 1 victim has been flown to Allegheny General Hospital, and 2 taken to UPMC-Presby.

Police say the suspect is in custody, and is reportedly a student at the school.

Three air medical helicopters were dispatched to the scene as well as dozens of ambulances.

According to a witness, the stabbings happened in the science wing of the building. [...]
UPDATE: Fox News: Victims ages range from 15 to 60 years old. Male student suspect in custody. Injuries do not appear to be life threatening at this time, but of course that could change.
Franklin Regional High School is located about 15 miles east of downtown Pittsburgh.
UPDATE:Pittsburgh Post Gazette:
Twenty students were injured — four seriously — in a stabbing this morning inside Franklin Regional High School in Murrysville.

Westmoreland County public safety spokesman Dan Stevens said a male suspect, also a student, is in custody and was being questioned by Murrysville police and Westmoreland County detectives.

Those seriously injured were flown to hospitals by medical helicopter. Some of the 20 injured students suffered stab wounds to the extremities, he said.

None of the injuries was life-threatening, he said.

The injured students' ages range from 14 to 17. Students are being treated at Allegheny General Hospital, Forbes Regional, UPMC East and UPMC Presbyterian. [...]
NBC:
Victims, as young as 15, were taken to four Pittsburgh-area hospitals. Two were in the operating room and a third was on the way, Dr. Chris Kaufmann, a hospital trauma director, told CNN. One hospital reported that it had patients as old as 60.
UPDATE: WPXI has Confirmed through one of the hospitals caring for the victims that 7 victims have life threatening injuries.
UPDATE: WPXI

Early reports are that a person ran through the school slashing or puncturing students with a knife or other sharp object.

"School was in session and students were arriving for morning classes. It happened in numerous classrooms and the hallways," Stevens said.

Stevens says not all of the 20 injured were cut by the knife, though most were. Some suffered scrapes and cuts in the mayhem that ensued at Franklin Regional High School in Murrysville on Wednesday morning. [...]
UPDATE: Per WXPI live coverage: Suspect is a 16 year old male 10th grade sophomore.
Per WXPI live coverage: Number of victims suffering life threatening injuries is now at 8.
Unconfirmed reports are coming in that the suspect was a victim of bullying, which does not justify going on a crazed stabbing rampage! Learn to suck it up! Unless of course you have been physically assaulted then you should take it up with authorities.
UPDATE: FWIW a photo of the suspect.
#BREAKING: PHOTO Suspect in Franklin Regional High School stabbings moved from police station. http://t.co/JZT7kYYb1t pic.twitter.com/iIIcTTTNE1

— KDKA (@CBSPittsburgh) April 9, 2014
A clearer screen grab of the suspect in custody.
Just in: First picture of Pennsylvania high school stabbing suspect (WTAE-TV) – pic.twitter.com/oMLn6ze6yb

— Matthew Keys (@MatthewKeysLive) April 9, 2014
UPDATE: ABC:
The breakdown of injured and whether they were students or staff was not immediately known, but two hospitals reported nine patients ranging in age from 15 to 60. Among the victims was a security guard stabbed in the stomach, police said.
Jeff Dahlke with the security company who provides security for Franklin Regional High School tells KDKA-TV that the suspect was armed with two knives. "The alarm went off, and students started rushing outside, the security guard outside rushed in, and came upon his supervisor, and a principal who had the suspect in custody on the ground and was trying to control him, and try to get the weapons away from him," Dahlke said.
UPDATE: A student witness' first hand account. Pittsburgh Post Gazette:
Gracey Evans, a junior from Murrysville, said she arrived at the school around 6:50 a.m. Around 20 minutes later, as she stood in the sophomore hall while her best friend stopped at his locker, she heard another student say something about blood. "I saw this kid in all black running down the hallway, stabbing," said Ms. Evans. "He was just stabbing everybody that was in his way." Her best friend, a sophomore, blocked the suspect from reaching her, said Ms. Evans. He "has a little sister, and he was protecting me like he would protect her. … I let out a blood-curdling scream." Her friend was stabbed in the back, she said, and a nearby student was stabbed in the stomach.
UPDATE: Selfie of Franklin High School student hero Sophomore Nate Scimio who pulled the fire alarm alerting fellow students.
#FranklinRegional Sophomore Nate Scimio with the ultimate selfie. He pulled a fire alarm to alert students. #Hero pic.twitter.com/Xt0hdBOUW7

— MSA Sports (@MSASports) April 9, 2014
UPDATE: RAW VIDEO: Suspect in Franklin Regional stabbing leaves Murrysville Police Department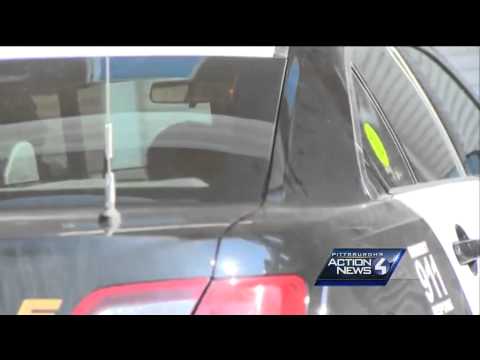 In the wake of the stabbing spree Franklin Regional will be shut down for several days.
PRESS CONF W/Superintendent: our high school will be closed for the next several days @wtae #franklinregional

— Kelly Brennan (@Kbrennan_WTAE) April 9, 2014

UPDATE: Not bullied…
NBC:
Classmates of the high-school sophomore suspected of stabbing people on Wednesday said he was a smart, quiet teen who "was not bullied."

"I don't know what could possibly motivate him to do it," Shane Molyneaux told NBC News in an email interview, a student at Franklin Region Senior High School who did not witness the stabbing.

"He was somewhat friendly. He was very smart. He was not bullied and he did not seem like a mean kid. He did have friends."

Kari Lee, who was walking into Franklin Regional when students stampeded out in a panic, said the suspect is "a quiet kid" with a low social profile.

"He wasn't a kid who would do something like this," she said. [...]

UPDATE: Thank God.
"It seems everyone will survive." Emergency management official re #franklinregional high school stabbing.

— tina susman (@tinasusman) April 9, 2014
UPDATE:
#BREAKING: NEW PHOTO: 16 yr old #FranklinRegional stabbing suspect Alex Hribal at police station in hospital gown. pic.twitter.com/Tj4Ddyl8a1

— Tim Williams (@realtimwilliams) April 9, 2014